University of Westminster welcomed a panel discussion with Women in Journalism to mark International Women's Day and celebrate women of colour.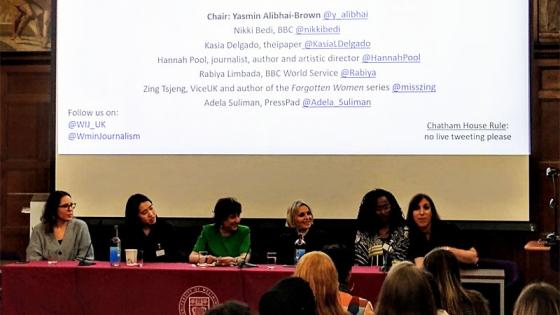 The panel was chaired by Yasmin Alibhai-Brown, who worked as a weekly columnist on The Independent for 18 years. The panelists included Nikki Bedi, TV and radio broadcaster for the BBC, Rabiya Limbada, a journalist for BBC World Service, Kasia Delgado, Deputy Opinion Editor for the ipaper, Hannah Pool from the Bernie Grants Arts Centre and an ex-Guardian staff writer, Adela Suliman from Press Pad and Zing Tsjeng the executive editor of VICE UK. They shared their approaches to navigating the 'boys clubs' which many newsrooms still appear to be. 
Alibhai-Brown started the panel by asking her colleagues what it took them to build successful careers in journalism and whether they faced any prejudices and obstacles on the way up. Tsjng said she has witnessed a major change in her company, explaining how herself and her female colleagues were able to change the culture from within and make it a much more equal space.
Bedi, on the other hand, shared that media companies tend to offer limited opportunities to journalists of colour, but she was able to stand her ground and choose to do the show that is not related to her background and be a 'culture courier'.
Pool highlighted the issue of tokenism in the leading newsrooms and offered an advice on the right time to go freelance. It allowed her and other writers to give more visibility to under-represented topics.
When an audience member asked about the concept of 'impostor syndrome', Alibhai-Brown, who was the first regular columnist of colour and the first female Muslim on a national newspaper in the UK, made the crowd cheer by saying that it has never been her problem as her confidence left few doors unopened.
Many students and professional journalists attended the event and the night concluded with a drinks reception where the guests were able to ask more questions to the panellists. 
It is the third time the Journalism BA Honours course and Women in Journalism have united forces to bring the leading media professionals to Westminster to offer an honest and insightful discussion on what it takes for women to succeed in the industry. Previous talks included the event with Mishal Husain from BBC and Cathy Newman from Channel 4 News. 
Dr Anastasia Denisova, Course Leader on the Journalism BA Honours course, said: "It is a great honour to welcome these distinguished journalists at Westminster. We have one of the most diverse journalism courses in the UK, and we are lucky that students can learn first-hand from the remarkable women that spoke about their career choices and ways to navigate male-dominated environments. They are role models for our students."