On 29 November, the University of Westminster hosted an anniversary roundtable and reception at Cavendish Campus to celebrate the 20th anniversary of the founding of Westminster's LLM Corporate Finance Law course.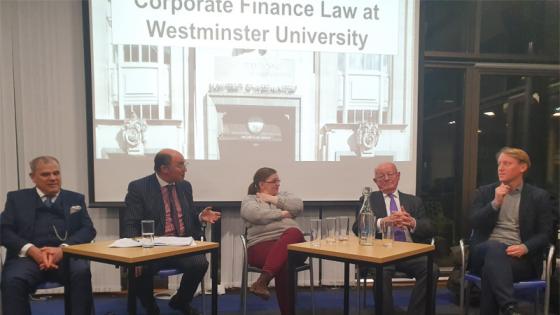 The event consisted of a roundtable at Cavendish Campus with business finance experts, followed by a reception to celebrate the LLM Corporate Finance Law course's 20th anniversary. The course was the first specialist Masters programme in Corporate Finance Law, and the 20 years that followed have brought extensive transformational change to both the legal backdrop and marketplace for start-ups seeking angel, venture capital (VC) or debt finance.
The roundtable was chaired by Professor Mark Watson-Gandy, who founded the LLM Corporate Finance Law course. Professor Watson-Gandy is a lawyer and educationalist, specialising in UK insolvency law. He is also the Chairman of the Biometrics and Forensic Ethics Group, a Home Office non-departmental public body.
Panellists invited to participate in the roundtable were business finance experts from an array of finance backgrounds, including Editor of Business Money Bob Lefroy, Founder of Angel News Modwenna Rees-Mogg, Philip Salter from the All Party Parliamentary Group on Entrepreneurship and is the founder of the Entrepreneurs Network think tank, and Westminster Visiting Lecturer for LLM Corporate Finance Law course and a Director at the Bank of Valletta Florin Coseraru.
During the roundtable, Professor Watson-Gandy asked the panel of experts from law, academia and press what the next 20 years hold for start-ups seeking to raise finance.
Panellists commended the insightful discussion that took place at the event and highlighted the importance of the different disciplines and cultures of business finance coming together in an open debating forum.
Talking about the event, Vice Chancellor Dr Peter Bonfield said: "I am so pleased to know that Mark and team are celebrating the 20th Anniversary of the LLM Corporate Finance Law course. This has been a superb achievement, sharing skills with the next generation of finance professionals from around the world, and has impacted so many people so positively. My most sincere congratulations to you all."
Professor Mark Watson-Gandy said: "Twenty years ago when the course was launched, it was a very different world for business finance.  
"If a business wanted finance they looked to their bank. Business angels were new and the idea of allowing pitching to self-certified High Net Worth Individuals and Sophisticated Investors was seen as edgy and dangerous. The idea of a world with burrito bonds and crowdfunding was inconceivable.
"Nowadays we have a buzzy and innovative private equity marketplace and businesses can much more readily get capital by selling their shares. However, the toxic combined effect of the Supreme Court decision in Brumark, MiFiiD and the taxman now taking a preferential creditor status, has meant Banks are no longer willing or able to lend to businesses in the way they used to.;
"The rule book has changed and the world looks very different. Yet some things have proved constant however: Corporate finance is dependent as ever on ready access to specialist legal skills, knowhow and creativity and education in this field  is as needed as it has always been.