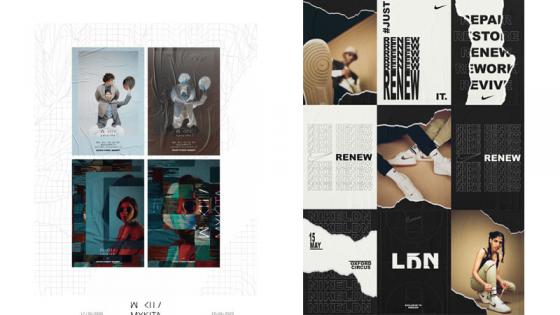 Elza Mucina is a finalist for the Fashion Innovation Award, which celebrates the excellent innovative work on members' courses. Mucina proposed an extension line for Berlin-based eye-wear company MYKITA to launch an exclusive collection at Dover Street Market that with a successful campaign aims to raise awareness on the use of facial recognition technology in society and the impact it has on well-being, by offering 3D printed sunglasses with lenses that absorb the near infrared spectrum and challenge the facial recognition software on our devices and on the streets.
Mucina said: "During my final year I have put a lot of hard work into developing my project that aims to raise awareness about the growing surveillance and tracking culture in today's society. This project has been a challenge, but I feel very grateful for having my hard work stand out and making an impact upon its viewers enough to be nominated for an award and becoming a finalist. This is a truly amazing opportunity."
Rhianna Popat is a finalist in the Fashion Marketing Award, where she submitted a digital report in which she creatively demonstrated her knowledge of the stages and promotional methods required to launch a campaign for a new product or service. Popat reported on Nike Renew, a brand-new sneaker renewal service by Nike, which allows consumers to repair their old trainers, as well as renew their existing trainers through unique customisation. 
Popat reported that by introducing this new service, Nike have presented an opportunity for customers to buy into a project which in turn builds brand equity and enables Nike to profit from the product's future earnings beyond the first point of purchase. The campaign focuses on promoting the longevity of sneakers in order to maximise their value. She said the campaign will also provide information in order to educate customers on the proper care of their products. By providing this service, Nike will be the first footwear brand in the market to encourage consumers to repair and renew their shoes by restoring their value and purpose.
Popat said: "I am incredibly thankful to be a finalist for the Fashion Marketing Award for Graduate Fashion Week Foundation. This award has presented me with the opportunity to showcase my final major project to the industry and is an experience I am truly grateful for."
Abigail Parslow also made the shortlist in both the Fashion Marketing Award and the Fashion Communication Digital Portfolio Award. In her work she focused on the Isle of Wight brand Rapanui. After extensive research into the swimwear market and the polluting nature of many swimwear options, she based her campaign on a hemp-based swimwear alternative as an extension for Rapanui. The extension line's name RUKU stems from the Rapa Nui language, with RUKU meaning "to dive into water", representing the brand values both literally and metaphorically.
The Graduate Fashion Foundation presents Graduate Fashion Week every year. It is the largest showcase of BA Fashion courses in the world, with over 95 of the most influential and inspiring UK and international universities and colleges. Due to restrictions around the coronavirus pandemic, the fashion show took place online this year. 
This year there are 19 awards covering each fashion discipline, from design, communications, photography, creative direction, and textiles.
The finalists were judged by various industry experts such as Hilary Alexander, the Graduate Fashion Foundation President, Fabio Pira, the MA course director at Central St Martins, Rob Jones, co-founder and designer of Teatum Jones, stylist Rebekah Roy, Christine Hafsten, Design Director at Cath Kidston, designer Christopher Raeburn, and Kei Kegami, a Designer and Creative Director at YKK. Also judging were representatives from Tu, Vivienne Westwood, Browns, Size? and Getty. 
Caline Anouti, Course Leader of the Fashion Marketing and Promotion BA Honours course, said about the achievement: "The work produced by the students is exceptional. The students are taught along the years the various aspects of how to creatively and strategically put together an innovative campaign. This truly comes to life in their final year during their final project. Most work in the final year is of industry standard and we are ever so proud of our students and wish them well for the bright future they have."
Winners in these categories will be announced in September at an award ceremony in London.
Learn more about the finalists on the Graduate Fashion Foundation website.