The University of Westminster's annual Difference Festival is back with a range of exhibitions and talks exploring the term 'truth' from 24-28 February. The public is encouraged to engage with the free and colourful array of programmes including trying a lie detector, discovering one's true physiological age and hearing straight from Sunday Times bestselling author Lewis Dartnell on how the Earth has shaped human history.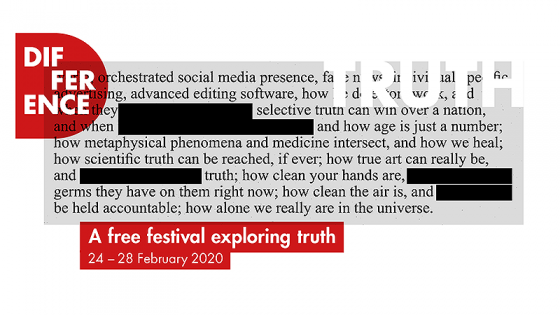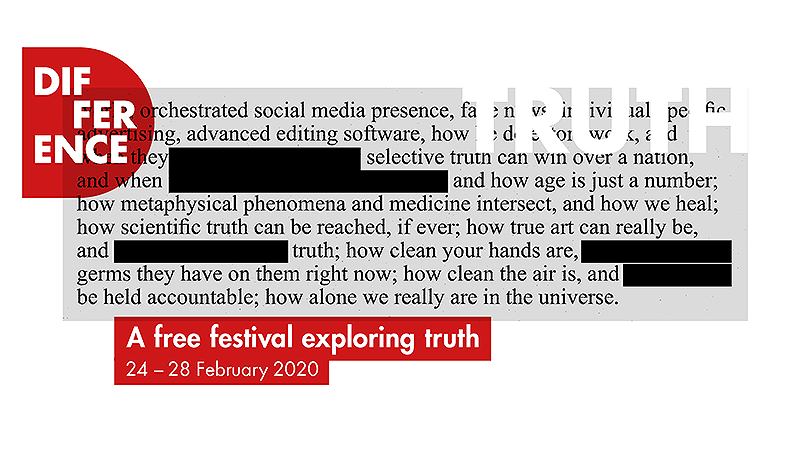 'Truth' will be explored in its entirety via a diverse programme of events curated by academic staff from the College of Liberal Arts and Sciences.
Two exhibitions will be open during the festival week in the Regent Street Campus Foyer. They will be on show from 9:30am to 5:30pm everyday with no need to book. The first exhibition is 'Patterns in Nature: The True Art of Microscopy', which brings together a diverse team from the School of Life Sciences to create an art exhibition of microscopic images that seem out of this world. The second is 'Imagery of Nature: Photography and Nature' that is an exhibition of photographs by Maria Leite, a multiple-award-winning photographer and doctoral researcher in Astrobiology. 
Monday 24 February begins with 'The Lie Detector' demonstration from 1-3pm led by Haulah Zacharia, University Lab Technician, where the public can experience a polygraph and see for themselves how accurate it is and how it is used in psychology for research. This is followed by 'The Syrian Revolution: Past, Present and Future' screening from 6-8pm led by Dr Alessandro Columbu, Lecturer in Arabic Language, and accompanied by Amina al-Khoulani, a Syrian activist, and Leiula al-Shami, a reporter. 
Also running from 6pm on Monday is 'The Power of Representation and Representation of Power: Nation, Ethnicity and Truth in Modern China' talk, led by Dr Séagh Kehoe, Postdoctoral Fellow in Chinese Language and Culture, accompanied by Anna McNally, Senior Archivist at the University of Westminster. From 6pm is 'Astrobiology: The Hunt for Alien Life' with Dr Lewis Dartnell, Professor of Science Communication. From 7pm is 'AromAtom: The Smell of Space' with Marina Barcenilla, an Astrobiology doctoral researcher, who will share the smells of space based on the composition of planets, moons and molecular clouds, as well as the smells experienced by astronauts, to learn more about exploration and the solar system. 
Tuesday 25 February begins with the demonstration 'How Old Are You? Different Truths of Ageing' from 1pm led by Dr Bradley Elliott, Lecturer in Physiology, where, through two common tests, the public can find out how old their biology is with the Biological Age score, a more meaningful number for overall health than chronological age. At 6pm is the workshop 'Seeking the Grail: why the Quest for Scientific Truth is Unending' led by Dr Stuart Thompson, Senior Lecturer in Biochemistry, accompanied by Rhiannon Thompson, doctoral researcher at Imperial College London. 
Wednesday 26 February begins with the second session of 'The Lie Detector' between 1-3pm followed by the panel discussion 'Are Cars the New Tobacco?' from 6pm led by Dr Rachel Aldred, Reader in Transport Planning and Management, who will be joined by an expert panel including Laura Leker, a leading active travel journalist, Dr Ian Walker, a psychologist, and Jon Burke, Transport Lead for Hackney. Also at 6pm is 'The Truth about Happiness', a talk led by Professor Gerda Wielander, a specialist in Chinese Studies and Associate Head of the College of Liberal Arts and Sciences.  
Thursday 27 February begins with the first of two sessions of 'Superbugs!' from 1pm with Dr Manal Mohammed, Lecturer in Microbiology, with the second session taking place at 6pm. Dr Mohammed will reveal how (un)effectively people are washing their hands through a fun practical demonstration on the attendees. Also on Thursday is 'Sink Without Trace: Investigating the Truth about Migrant Deaths at Sea', a discussion from 6pm coordinated by Dr Federica Mazzara, Senior Lecturer in Intercultural Communication, who will be joined by Maurice Stierl from the University of Warwick, Laura Padoan, External Relations Officer at the United Nations Human Rights Council, Daniel Trilling, a journalist for The Guardian and Lorenzo Pezzani from Goldsmiths. Dr Lewis Dartnell is also back with a talk about his book 'ORIGINS: How the Earth Shaped Human History' from 6pm.  
The Difference Festival ends on Friday 28 February beginning with another session of 'AromAtom: The Smell of Space' between 1-3pm, followed by a demonstration titled 'Medical Truth as a Metaphysical Phenomena: Does Chinese Medicine have an Evidence Base?' from 6pm led by Jane Wilson, Senior Lecturer and member of the EASTmedicine research group.
A screening of the 'Bass Culture' film and Q&A will be from 6-9pm, coordinated by Mykaell Riley, Principal Investigator of the Black Music Research Unit, and staged by Bass Culture Research. The festival ends with 'I Swear to Tell the Truth', a workshop from 6pm led by Professor Catherine Loveday, and Professor Coral Dando, both Professors of Psychology. The workshop will challenge the truth of memories and will encourage the audience to consider whether false memories are possible and ultimately what 'truth' is. 
Book your tickets for the Difference Festival 2020 on their website.