The Danego Charitable Trust has generously donated to support the Matinée Classics programme at the University of Westminster's Regent Street Cinema for which, to date, £40,000 has been fundraised.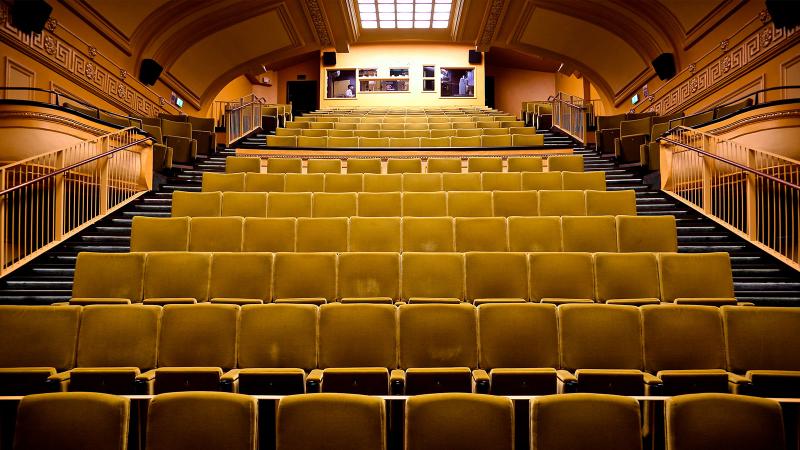 The Trust was established by Tim Bevan CBE, film producer and founder of film production company Working Title Films, and his wife, the artist Amy Gadney, for general charitable purposes. Tim has been an Honorary Member of the University since 2008 and he supported the Regent Street Cinema restoration in 2015, as Chair of the Cinema Advisory Board.
The Cinema's community engagement programme Matinée Classics tackles loneliness and isolation in older people in the London borough of Westminster and surrounding boroughs. Its attendees range in age from 55 – 95. The programme encourages social engagement, builds confidence, and promotes physical and mental activity. Tickets are priced at £1.75, making Matinée Classics accessible to all. The price includes a classic film screening, a Dance and Movement workshop and free tea and coffee.
Every Wednesday the world's most famous films from the classic Hollywood era are showcased, such as 'Casablanca', 'The Big Sleep' and 'Vertigo'. The screenings are at 12pm and 3.30pm. 
Before the screenings an organist plays the 1936 John Compton theatre organ live. From the stage, Lindsey Bowden, Programme Manager and resident film historian, introduces the film and delivers talks which explore the themes and context of the films, encouraging discussion between attendees and Q&As. Refreshments are then served in the foyer and attendees are encouraged by Diana Wykes, Dance Tutor, to join in the Dance and Movement Workshop which takes place in the interval. Many attendees arrive at 12pm and do not leave until 5pm. 
The Cinema has 240 older people that attend every week and since 2016 there have been 30,331 visits to the programme. They also allocate 15 tickets every week to the Carers Network for people over 55 and since September 2018 there have been 645 visits from this target group alone. In their last survey 95 per cent of attendees felt they had 'made a friend'.
Davena Briggs, a Matinee Classics attendee said: "Isolation creeps up on you. I had no idea what a profound effect Matinée Classics would have on my life. I now have something to look forward to every week and feel that I have made friends. This is just what I was looking for.
Another service user said: "I'm in my 60s and hadn't been to the cinema for about 40 years! I never expected to make more friends in this decade than any other." 
To date, the Development Team has raised almost £40,000 for Matinée Classics. The Charitable Trusts that have supported it are the Edward Harvist Trust, Ernest Hecht Charitable Foundation, Mohamed S Farsi Foundation, The Henry Kent Trust, The Hobson Charity Limited, The Hyde Park Place Estate Charity, The Michael Marks Charitable Trust, The Portman Foundation, The Theatre Organ Club, Westminster Foundation and the #MyWestminsterFund. 
Lindsey Bowden, Programme Manager, said about the impact on attendees: "This event is the highlight of the week for our attendees and can only run thanks to the support of donors like the Danego Charitable Trust. Matinée Classics engenders a strong sense of community so people have made new friendships, discovered new interests and isolation has diminished. Many are fitter and happier as a consequence. 
"There is a strong sense of commitment to the project; most people who come attend on a weekly basis and often bring guests, who bring guests! Previously they would often have been alone for much of the week. We accommodate all levels of physical and mental ability and need."
Find out how you can help more attendees like Davena by emailing [email protected].