Thanks to generous support from the University of Westminster's alumni community, the annual 125 Fund Telephone Campaign raised £67,000.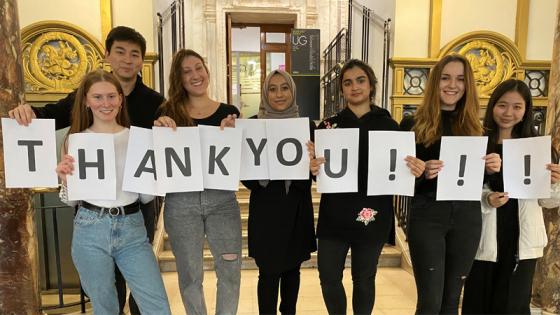 The three-week campaign, which took place from 2 to 24 November, involved 37 Westminster students contacting former students to hear about alumni experiences and raise money for The 125 Fund. The campaign provided students them with invaluable work experience, training them on projects designed to help fellow students, and building their confidence by having conversations with the Westminster Alumni community. 
During the campaign, students heard from alumni about their professional experiences and their time as a student, as well as receiving advice on different career options and discussing how alumni can support the University by volunteering or donating to The 125 Fund. 
Since the end of this year's campaign, over 200 alumni have pledged to donate to The 125 Fund and many alumni have shown an interest in joining the University's mentoring programme. The support provided during this year's campaign plays a vital role in enhancing student experience at Westminster. 
Talking about the campaign experience, Marketing Communications MA student Ifeoma Okoro said: "The 125 Fund was an amazing experience for me. It opened my eyes to the good the University is and has been doing for students like myself, to create better opportunities for them. My favourite part of the three-week campaign was speaking to Westminster Alumni and hearing their experiences as well as receiving advice from them. 
"It goes to show the University of Westminster has produced individuals that are open to sharing as much advice as possible, and I can't wait to be on the other side of the phone, sharing my own experience and giving as much as I can."
Human Resource Management BA student Lazarina Bilyarovasaid after completing the campaign: "It was truly a pleasure working on the Telephone Campaign. I had the amazing opportunity to speak to Westminster alumni, listen to their career stories and receive useful advice on my future career after graduation. 
"Personally, this experience has made me more confident in my communication and my future career goals. The stories of students who have been fortunate to receive support from The 125 Fund were inspiring. I am proud I was able to help The 125 Fund and support the projects and ideas of students at Westminster."
This year in March, 122 students were awarded life-changing grants from The 125 Fund for a range of projects, which will help them with their employability and development. 
Applications for the 2020 round of The 125 Fund grants are due to open early next year. The University is grateful to the Quintin Hogg Trust for extending their matched funding offer until 2020, helping us to create a transformative fund for the benefit of Westminster students. 
Find out more about The 125 Fund.
Contact the Development and Alumni Relations office on +44 (0)20 3506 6495 or email [email protected].