University of Westminster students' artwork is being displayed at the Galen Vascular Unit at Northwick Park Hospital.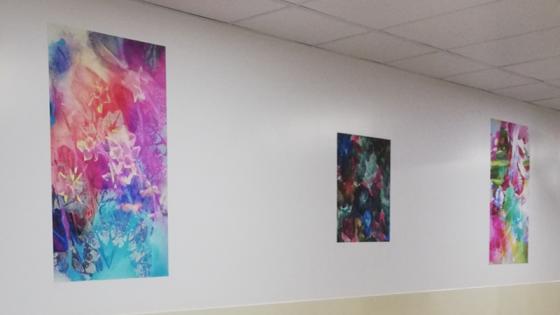 When seeing Westminster students' artwork on the walls of St Mark's Hospital in the same Northwick Park Hospital complex in January 2018, Dr Kamran Modaresi, Clinical vascular scientist, was so impressed with the quality of the work that he approached Emma Dodson, Senior Lecturer on the Illustration and Visual Communication BA Honours course, to ask if the artists would also like to enliven the walls of the new vascular unit. 
With the support of Geraldine Dammen Kombonglangi, Trusts & Foundations Manager for London North West Healthcare Charity (LNWH Charity), who made sure funds were raised to have the work installed according to health and safety requirements, the work was approved and installed in December 2019.
Graduating students from Westminster's School of Design, Creative and Digital Industries were approached after their degree shows in the summer 2019. Two of the students had exhibited work in the hospital previously.
The students involved were Olivia Woolhouse and Nathalie Dickson from the Illustration and Visual Communication BA Honours course, and Karina Kaye, Bella Hall and Millie Olateju from the Fine Art Mixed Media BA Honours course. 
There was no theme as such but the subjects to be displayed in the unit were required to be celebratory in tone and have positive associations to nature with some abstract imagery also considered. 
The Galen Unit is the single largest £1.5 million project that LNWH Charity has funded in order to establish a new, high tech vascular centre at Northwick Park Hospital. Although work was completed back in February 2019, the walls were bare and the unit felt like a clinical and cold environment.
Geraldine Dammen Kombonglangi said about the displays: "Dr Modaresi indeed approached Emma to see if the art students at University of Westminster would be interested in displaying their creativity at the new unit. I have visited Galen Unit and have received nothing but very positive feedback from patience and staff alike. LNWH Charity and the Galen Vascular Unit cannot thank Dr Modaresi enough for the introduction to Emma and the students."