February this year saw the launch of the Soho Poly Arts Club in the former Soho Poly Theatre basement on Riding House Street.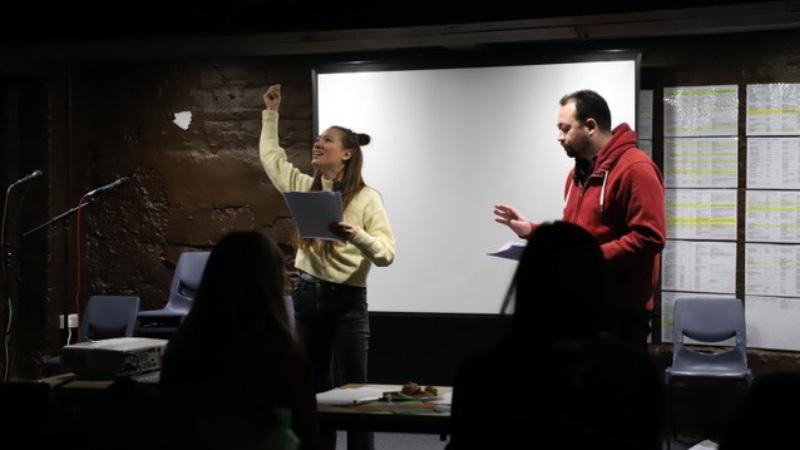 During the 1970s and 1980s, the Soho Poly (home of the original Soho Theatre company, now based on Dean Street), established itself as one of the most famous alternative theatre venues of the period. When the theatre moved on in 1990, the space was left abandoned. But recently, Dr Matthew Morrison, Course Leader of the Creative Writing and English Literature BA Honours course, and Professor Guy Osborn, Co-Director of the Centre for Law, Society and Popular Culture, have taken on the role of Creative Producers, reviving the iconic venue for the 21st century.
Following highly successful events as part of three annual Being Human festivals, they opened the Soho Poly Arts Club this year with two Ghost Gigs, honouring an even earlier history of the Riding House Street venue. In the late 60s and early 70s the basement was the home of PolyFolk, and many musicians played live. On 9 February and 5 March, rare recordings of concerts by Michael Claire and Maureen Kennedy were played, on the 50th anniversaries of their original performance. On 6 March, Dr Hannah Copley then launched the Club's poetry strand with a salon event with poet Helen Mort, and on the 12 March Dr Kate Graham launched an LGBTQ+ Drama Club programming strand with a conversation with Adam Spreadbury-Maher, the Artistic Director of the Kings Head. This was followed by a book launch for Westminster's own Michael Nath, whose novel 'The Treatment' has recently been published to great acclaim.
Further events have sadly had to be suspended due to the current Coronavirus crisis, but were to include: a conversation with Ash Kotak on 19 March; the Poetry Club with Atef Alshear on 20 March; an LGBTQ+ Drama Club reading of Jackie Kay's 'Chiascuro'; and a poetry open mic on 27 March. A further seven events were planned for April, beginning on the 1st April with a film screening of 'Stories from the She Punks' and a Q&A with Westminster academic and musician Helen Reddington. On 2nd and 3 of April, the Arts Club had also programmed a workshop/reading of Monique Wittig's play 'Ladybird', and another poetry salon with Kimperly Campanello, followed by a film screening of 'A Sicilian Ghost' along with a Q&A with the writer. Two further Ghost Gigs were to be held on 8 April and 27 April, the first being Ralph McTell and the second Fleetwood Mac, and there was to be an exhibition of Cold War Steve Photography from 1 April to 1 May. 
Whilst Morrison and Osborn are sorry that these events cannot go ahead as planned, they are now working to see which ones might move to digital platforms. For starters, the Ghost Gigs on 8 April (Ralph McTell) and 27 April (Fleetwood Mac) will be streamed on those days. 
The Soho Poly Arts Club, part of Morrison's and Osborn's wider Disrupting the Everyday Initiative, was always intended to pay homage to the Soho Poly and its practice of challenging the notions of time and space. They hope that a move to an online presence can be carried out in this pioneering spirit.
Keep an eye on the Soho Poly Arts Club Twitter account for details at @thesohopoly.
The Cold War Steve exhibition will also be available digitally before the basement can be reopened.