science4u and the University of Westminster hosted the annual Schools Science Conference online with the theme 'Science for the World' on Wednesday 21 April.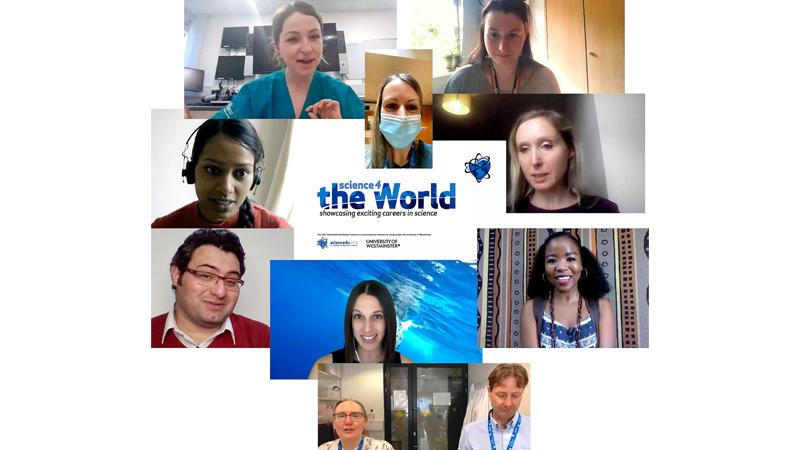 2020 saw the first global pandemic since the Spanish Flu in 1918 with less profound other pandemics in 1957 and 1968. This has affected the entire world and changed society worldwide. Scientists of all kinds have been needed like never before in the modern era - from respiratory scientists through to virologists, from immunologists through to clinical perfusionists, all have had a key role to play. 
In parallel to this, big global questions have arisen, such as, has the world responded and dealt with this appropriately? Where are we with worldwide vaccine availability, healthcare, food supply maintenance? Has the impact on the environment been considered enough and how could the world be better placed to deal with another pandemic? 
The conference, presented by a host of scientists and healthcare professionals, introduced the huge variety of scientific careers available to young people. The event welcomed 236 pupils in years 9-11 from 8 participating schools across London, and was designed to inspire pupils to study science, demonstrate the importance of science in health and everyday life, and showcase some of the exciting and rewarding careers in this field. The programme focuses particularly on encouraging girls and under-privileged students into scientific careers.
The programme featured 'Viruses and Vaccines', a workshop led by The Royal College of Pathologists, 'Science in Practice' with sessions on echocardiography presented by Barts Health NHS Trust, specialisms in healthcare science, a live tour of a haematology lab, sleep disorders and remote training during a pandemic presented by Great Ormond Street Hospital for Children NHS Foundation Trust, and 'You are what you eat' presented by The Royal Marsden NHS Foundation Trust.
Highlights of the conference included a session where students were invited to present the projects they had undertaken at school or in an extracurricular science club, from observational studies and surveys to brief experiments and extended projects. Sue Alexander, Principal Biomedical Scientist & Pathology Services Manager, The Royal Marsden NHS Foundation Trust said: "I was one of the judges for the science projects and was impressed by the way schools embraced the theme of the day, Science for the World. The quality of the projects and presentations was very high with a great deal of research behind them, innovative delivery by PowerPoint and animation, real originality and applicability to real life issues.  Really good work by all involved and very much applauded".
Competing for The Association for Clinical Biochemistry & Laboratory Medicine Trophy for the Don Henderson Award, the winning project was from Claremont High School Academy with their presentation on 'Memories'. 
In keeping with the overall theme of 'Science for the World', the event was interspersed throughout the day with keynote speeches from Wildlife scientist Dr Vanessa Pirotta from Macquarie University in Australia on 'Whale Snot, Drones and STEAM', Pinky Mokwena, MSc student, Tshwane University of Technology in South Africa on 'Disciplines & Connections' and Mahmoud Tareq Beshir, Oncologist, currently undertaking his Masters at Ain-Shams University, Cairo on 'Fluidity of Science Careers Today'. In addition, there were live speeches from Professor Trudie Lang, Senior Research Scientist in Tropical Medicine, Nuffield Department of Medicine on 'Why we need Health Research to Solve a Pandemic... and all the other diseases too!' and Dr Sarah Pitt, Principal Lecturer in Microbiology, University of Brighton on 'Going Viral'. 
Talking about the conference, Paul Hampson, UK Student Recruitment and Outreach Manager at the University of Westminster, said: "In what has been a difficult time for all, it's great to see the interest and enthusiasm from young people to experience opportunities and that they can be part of the next generation of scientists tackling future outbreaks such as pandemics or new medicines to combat threats we cannot yet foresee."
Dr Kimberly Gilmour, Chief of Laboratory Medicine at Great Ormond Street Hospital and co-chair at science4u, added: "This was a wonderful opportunity to inspire students in London, England and around the world to become the scientists of the future. This conference will be available shortly via the Science4U website."
Westminster and science4u are grateful to the following sponsors who enable the conference to happen. These include gold sponsors: A Menarini Farmaceutica Internazionale SRL; C A Redfern Charitable Foundation. Our silver sponsors: Great Ormond Street Hospital Healthcare Science CPD funding; Society for Applied Microbiology; Philip King Charitable Trust and to our supporters, Mast Group and Sysmex.