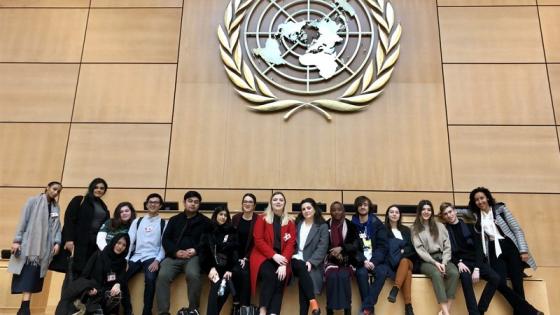 Led by Dr Sahar Taghdisi Rad of the Centre for the Study of Democracy and assisted by Irene Queralt Santamatilde, the trip aimed to provide students with exposure to international organisations, an insight into the practical workings of these institutions, and an opportunity to explore future academic and professional prospects. 
The students visited the Geneva Graduate Institute, where they heard insightful talks by the renowned Professor of Gender and International Relations, Professor Elisabeth Prügl. Professor Prügl referred to the students as "refreshingly open and interested". 
During a visit to the United Nations Office in Geneva, Dr Giovanni Valensisi from the United Nations Conference on Trade and Development delivered a lecture on international trade negotiations and their impact on developing countries. 
The students found the session to be an example of how to treat global issues professionally and outside of the classroom with high academic quality, and engaged in a keen discussion with Dr Valnsisi.
Reflecting on the visit, Dr Valnsisi said: "At a time of rising nationalist drives, students' genuine interest, their challenging questions, and the lively discussions that followed were a powerful reminder of the appetite new generations have for a fair and effective multilateralism, capable of addressing the challenges of the 21st century in a constructive and inclusive manner."
 
The trip also included a tour of the UN's Palais des Nations – home to the League of Nations, sessions at the International Committee of the Red Cross, and a visit to the world-famous CERN facilities.
Talking about the trip, one of the student attendees said "This trip gave me hope and motivated me to work towards a career path that is beneficial to not just myself but the world in which I live, it motivated me to extract what I have learnt on this trip and employ it in my assignments. Most importantly, it has allowed me to witness what I learn within the classroom in action."
Another student added: "The programme in Geneva was a great opportunity to expand my knowledge of how international organisations operate and build realistic expectations about my future career within the field of international relations. 
"Being a final year student, this initiative helped me bridge the gaps between academia and professional life. I have also been able to exchange ideas with people I share common interests and explore potential opportunity for work and research."
While the students reflected on the trip as a a lifetime opportunity to gain practical insight into many topics in the world of international relations and gain a sense of direction in terms of future academic and professional paths, the trip also provided a great chance for personal development. 
The group explored the city of Geneva, shared new experiences and formed new friendships across the cohorts.