On Friday 13 November, 640 students from Westminster's School of Architecture + Cities and the Medical School at Imperial College London got together to explore the relationship between design, mental health and wellbeing through two interdisciplinary workshops.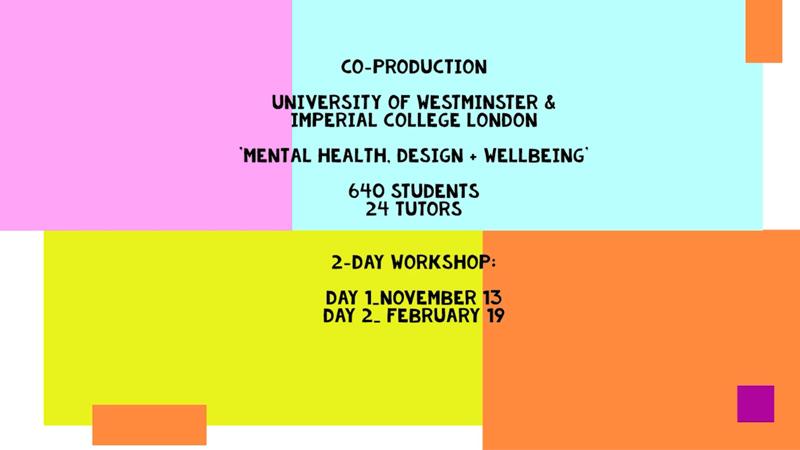 Architecture and medical students worked together in groups, focusing on one of four mental health conditions – dementia, neurodevelopment and autism, family therapy and adult psychiatry. 64 virtual breakout groups were formed and each group was given access to an online whiteboard that they worked on for the collaboration. 
The aim of the day was to come up with innovative solutions for the redesign of four existing NHS sites used in the treatment of the conditions including therapy rooms and consulting rooms and in this first workshop create a user brief which would then form the basis for creating a design proposal in the second workshop to be held next February. 
The morning was spent identifying the problem. Students started the day with a keynote talk from Angela Brady OBE, Co-Founder of architectural practice Brady Mallalieu, on designing for mental health. They were then given a series of tasks which included exploring the meaning and value of 'co-production', image mapping their emotional responses onto the different sites, as well as attempting to put themselves in the shoes of patients using the different spaces. During the morning, they listened to a series of pre-recorded video interviews from expert clinicians as well as patient testimonials relevant to their allocated mental health condition and site. 
Attendees spent the afternoon formulating a solution, which started with a live Q&A session between the student groups and representatives from various stakeholder groups including architects, clinicians and patient representatives. The final task of the day was to develop a vision in text and image of how the various spaces could better support the needs of their users including patients, carers, visitors and clinicians. 
For architecture students, this was a chance to engage with others on a real-life design problem and to learn how to engage with different stakeholders who they may come across in practice. For the medical students, it was an opportunity to explain complex medical ideas and concepts to non-medics just as they will have to as practitioners.
The outcome of this first workshop was a collection of annotated white boards which the groups will pick up at the second workshop to be held in February when they will focus on creating a spatial design.
Talking about the most valuable thing they learned from the workshop, Architecture MA student Anastasia Tsamitrou said: "In this difficult period, there are so many students sitting alone in their rooms unable to meet new friends, socialise and get inspired. The workshop offered an opportunity to meet new people, exchange ideas and get inspired."
Momchil Petrinski, Third year Architecture BA Honours student, added: "The most valuable thing I learned at the workshop is the importance of cooperation, communication and exchange of ideas within a group in order to achieve a good final result that is the best suited to its purpose. Communication especially, as we had to engage with people we didn't know and work with them in a team, which could be challenging."
The organisers of the event created a time lapse video of the virtual workshop which can be seen below. The second workshop will take place on 19 February 2021.

Find out more about Architecture and Interiors courses at the University of Westminster.