Second-year students on the BA Fashion Design course at Westminster have been working on a live project with luxury Paris-based fashion brand FENTY.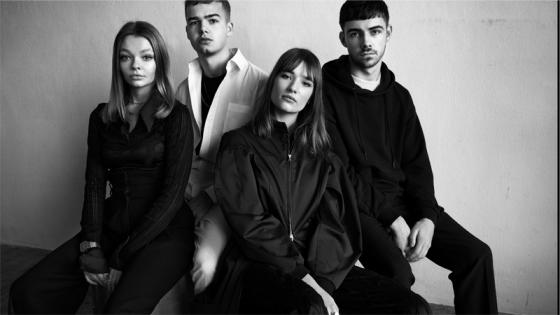 Central to the students project brief was the use of upcycled materials from the brand's core range including Japanese denim and cotton drill, and the reimagining of FENTY's archetypal garments to propose new outcomes that follow their core aesthetic.
The six-week project saw the students get regular feedback on their initial ideas, design developments, and final garments from the FENTY team in a series of tutorials and fittings held at Westminster. 
The project culminated with a private runway show held underground at Ambika P3, Marylebone. After watching the show, FENTY CEO and Artistic Director Rihanna gave each student individual feedback on their runway outfits and project designs, before selecting four finalists, one of which will spend their upcoming placement year working alongside the Fenty team in Paris.
Andrew Groves, Professor of Fashion Design at Westminster said: "It has been incredibly exciting for our students to experience a live industry brief with a creative team that was so involved in all stages of the project. The knowledge students gained from experiencing first-hand how a design team develops and produces new design outcomes was invaluable for them to be part of that process so early in their careers."
Robert Leach, who was the design tutor on the collaborative project, said: "It has been a fantastic experience to work so closely with FENTY; the students rose admirably to the challenges and demands of collaborating with a major fashion brand and have gained invaluable experience and knowledge from this collaborative project. I'm sure I speak for the students too when I say how honoured we were to have Rihanna, her team and so many senior LVMH representatives present at the private showcase; and I would like to thank them for this unique opportunity."