Last month, Course Leader of the Global Public Health Nutrition MSc Regina Keith and seven graduates took part in the virtual World Public Health Nutrition Association (WPHNA) Congress through creating posters and presentations which were shown during the conference.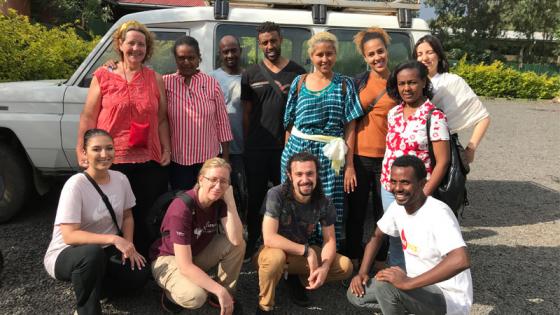 The WPHNA Congress brought together the international public health nutrition sector, acting as a pathway to strengthen the knowledge base, partnerships and commitment for effective action to improve nutrition-related health. The theme of the 2020 event was 'Knowledge, Policy, Action in the Decade of Nutrition 2016-2025 – What is working or not? Where are the gaps? What needs more effort or change?'.
While the event was unable to take place in person, the speakers for the 2020 Congress created virtual presentations on their respective expertise, providing learning opportunities and insights into various areas of public health nutrition.
Regina Keith along with seven MSc graduates from the course were invited to take part in the Congress. Keith and graduates Ayanna Deane and Bejuka Diana Kenyangi created presentations for the event, covering various areas of public health nutrition including progress on the global nutrition targets, impacts of governance and leadership on stunting in Zambia and exploring feeding practices of infants in the Royal Borough of Greenwich to improve health outcomes in children under two. 
Graduates Claudia Baker, Karolina Rodriguez, Kate Cressall, Olivia Williams and Frantsiska Zigah also created posters for the event which were uploaded to the Congress website, which covered a variety of topics from sugar consumption and oral health in young children to exploring the effectiveness of current interventions to address undernutrition in India.
The event also included plenary sessions including live Q&As from keynote speakers, as well as symposia sessions which will take place in the coming months with webinars which will be presented by working groups on a range of topics, including broader issues relating to the Decade of Nutrition Action.
Talking about the event, Regina Keith said: "Being selected to present their research, from hundreds of applicants across the world, is a real honour for our graduates. They gain experience in sharing their research in poster and presentation formats, while also having the opportunity to learn from others research and network with over 500 other participants. 
"This is a critical time for global public health nutrition as we are halfway through the decade of nutrition, however no country is on track achieve their global nutrition goals by 2025. Such conferences create opportunities for those involved in public health nutrition to share lessons learned and debate what needs to change for progress to occur.  For students, conference presentations strengthen their academic and transferable skills as well as their employability and PhD research opportunities."