Professor Johan Woltjer, Professor of Urban Infrastructures, has been awarded an Honorary Professorship by the Institute of Technology Bandung in Indonesia.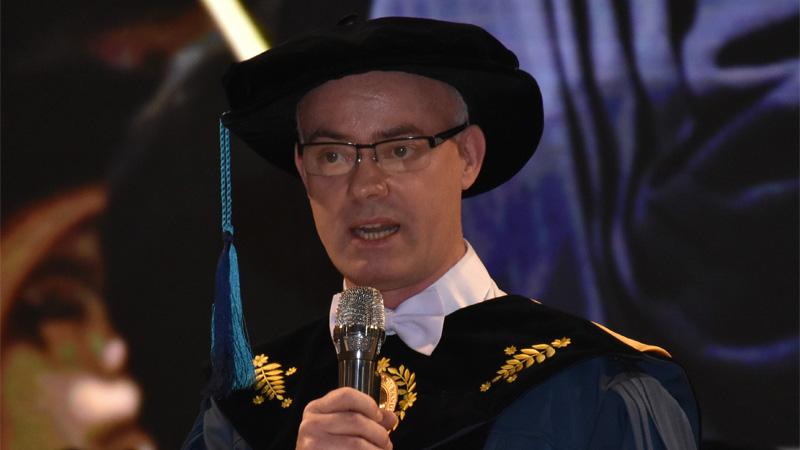 Professor Woltjer's collaboration in teaching, research and knowledge exchange with the Institute of Technology Bandung began in 2003, and has encompassed research projects, student development, knowledge exchange with organisations in planning practice, and the establishment of a rich portfolio of globally influential international journal articles on urban and infrastructure development.
He was one of the three awardees awarded the title of Honorary Professor to acknowledge his participation in and contribution to the development of science and technology.
The ceremony, which took place at the Institute of Technology Bandung last month, which included a formal ceremony where Professor Woltjer received his Professorship, as well as a press conference. Two other individuals received an Honorary Professorship, one of whom was a Nobel Prize winner.
His research focuses on urban infrastructure and planning, regional governance, international development and water. He contributes to an international and internationally comparative view to urban planning and infrastructure, with a particular focus on Europe and Asia. 
Talking about his achievement, Professor Woltjer said: "I am incredibly honoured to have received this award from one of the most prestigious universities in South-East Asia. It is a recognition of the influence of my long-term collaborative research work on urban infrastructures, and knowledge exchange in Indonesia for sustainable cities.
"I am looking forward to further addressing challenges like urban growth and climate change, and clarifying the future shape of cities".
Learn more about Construction Management and Urban Planning courses at the University of Westminster.