On Wednesday 26 February, Director of Engineering at Polystream Jarl Ostensen visited Computer Science and Games students at Cavendish Campus to discuss cloud gaming.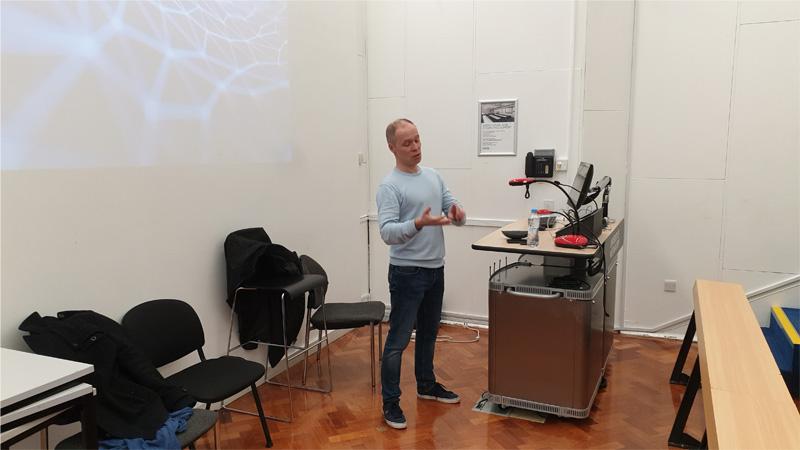 With the much-anticipated release of Google's cloud gaming service Stadia, cloud gaming is set to change the established landscape of the console and PC games market. Jarl Ostensen of Polystream visited Westminster students to discuss how cloud gaming works and the technical difficulties faced by streamers.
Jarl shared insights into Polystream's unique approach to solving some of the technical challenges faced by Google Stadia and Microsoft's xCloud solutions. He explained how Polystream distribute the process of data both locally and in the Cloud through command streaming to negate scalability issues and excessive lag to deliver a truly immersive experiences to gamers.
The talk concluded with Jarl's thoughts on the exciting future and potential uses this technology.
Discussing the talk, third year Computer Science BSc student Zaynab Bawa said: "It was interesting to find out how Polystream differentiates between Microsoft and Google by using command streaming and the benefits of this form of cloud gaming. The talk also provided me with a deeper understanding of cloud gaming and how it is implemented. It has made me very excited to see the future of cloud gaming."
Computer Games Development BSc student Dalia Saleh Rasool added: "I found Jarl's talk very interesting and it was fascinating to learn more about what Polystream does and how they're introducing command streaming into the industry. It was motivating to hear how Polystream began and how practice makes perfect."
Stephanie Georgiou, Marketing Manager at Polystream, said: "We were excited for the opportunity to present to the Games and Computer Science students at Westminster. Jarl gave an insightful talk highlighting the history of streaming, the issues faced and how our command steaming technology is changing the way we deliver 3D interactive content from the cloud."
Drew Cattanach, Lecturer from the Computer Games Development BSc course added: "Jarl's talk introduced the potential of cloud gaming technology to our Computer Science students and demonstrated how the technology could change the way we work and play in the future."
Learn more about the School of Computer Science and Engineering.