Isatta Cesay, Founder of Doctored Sound and student on the Music Business Management MA course, has been part of organising a Black history bus tour around London estates as part of the Educate to Create 2020 project.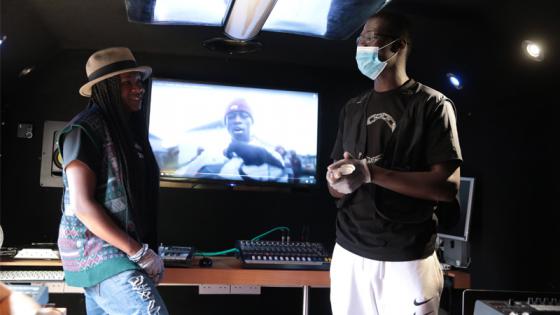 As a management, consultancy and music education platform, Doctored Sound's music education branch supports educational settings to deliver a broad and balanced curriculum through music education from key stage four to further education and beyond. As a result, Isatta decided to collaborate with the Young Urban Arts Foundation (YUAF) to combine her work as a music educator with their mission to empower the lives of young people by strengthening well-being through creativity.
Isatta worked together with YUAF and Sony/Sony ATV, creating a Black history syllabus in response to the gaps in the curriculum and the Black Lives Matter movement. Working with councils and youth clubs in Dalston, White City, Edmonton and Chelsea, Isatta has delivered five topics on Black history to young people throughout the month of August, focusing on topics such as Black women in music, the history of hip-hop and grime and Black British activists. A number of questions arose from these sessions, which presented an opportunity for further exploration of each topic in the future. The Educate to Create 2020 tour incorporated these sessions with song writing, production and lyric writing.
The bus tour, where the bus was equipped with a multimedia studio, provided a valuable introduction to the Doctored Sound syllabus to establish the best practices for each individual setting, and the positive and enthusiastic environment led to several young people returning to the bus.
As a musician, Isatta decided to study on the Music Business Management MA course to delve deeper into the world of music business and gain insightful knowledge to help her run Doctored Sound. The course at Westminster helped her connect with more industry contacts and gain invaluable advice and opportunities from her lecturers.
Talking about the course, Isatta said: "The course has a great reputation for being connected to the industry and it is the best thing I've done. I would recommend it to anyone because it has changed everything so quickly, all it has taken is for me to meet a few people and it's been really successful."
She added: "If you're not active, your outcome will be affected. I did everything in the handbook and, if I was already doing something that came up in lectures, I just did it even harder and with more intensity. I took everything literally and that really helped."
Learn more about Music courses offered at the University of Westminster.