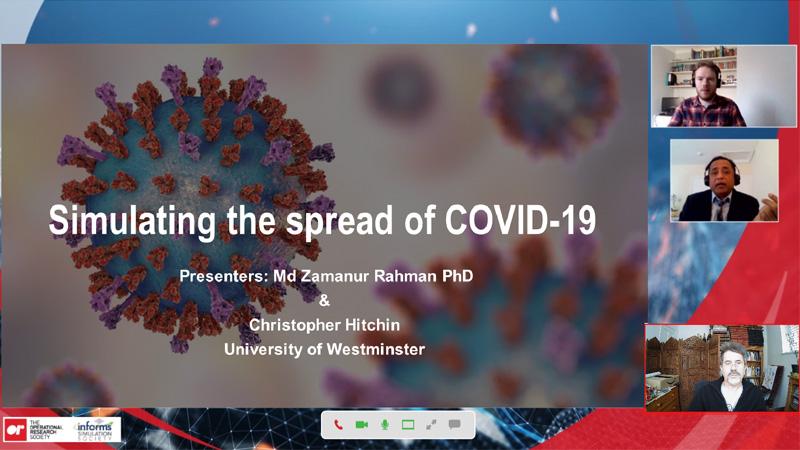 SW21, which is the flagship event of the Operational Research Society on simulation and modelling, was held online 22-26 March 2021, and provided an opportunity to present developments in the field as well as collaborate and network. The online event had a packed schedule of speakers, panels, and tutorials to bring the latest news and break throughs in simulation and modelling. Delegates heard from authors from across the globe, including USA, France, Germany, Ireland, Norway, South Africa, India, Ethiopia, Brazil, China, Indonesia, and the UK.
The paper simulated the spread of COVID-19 in Wuhan and to explore the effects of different control strategies such as social distancing and case isolation. The researchers found that social distancing was effective in reducing infection rate while case isolation was best in reducing the number of deaths, which is consistent with other findings. The work was completed from March to April 2020 in the early days of the pandemic, when only limited data that was mostly restricted to Wuhan and knowledge about the virus were available.
The paper was co-authored by Md Zamanur Rahman, Christopher Hitchin, Kathryn Liddle, Sifi Bahuleyan, and Olawale Betiku, all students from the Business Intelligence and Analytics course.
The work is based on a group project completed during the same time period in 2020 in the module 'Simulation Modelling' module, an optional module on the Business Intelligence and Analytics MSc, which is a course addressing the need to exploit potential information and knowledge hidden in routinely collected data to improve decision-making. 
Talking about the event, Md Zamanur Rahman, who led the submission, said: "This is world class event of simulation works. It was my great opportunity to be part of this great event with distinguished academics, researchers, and practitioners. Thanks to the OR Society for the organisation and to Prof Thierry Chaussalet for supporting us."
Christopher Hitchin, who also presented at the event, commented: "I was honoured to present with such esteemed company and very much appreciated the opportunity to share our work from the early days of the pandemic."
Professor Thierry Chaussalet, Course Leader for the Business Intelligence and Analytics MSc and lead of the Health Innovation Ecosystem and Health and Social Care Modelling Group at Westminster, added: "It is fantastic to see our students being able to get their work done during the course recognised and published in an international peer-reviewed conference. It is even more impressive that this was their own initiative."
Find out more about Data Science and Informatics courses at the University of Westminster.