Dr Jaafar El-Murad, Head of the Department of Marketing and Business Strategy, visited Sky Media, the advertising sales arm of Sky, with Marketing students from the University.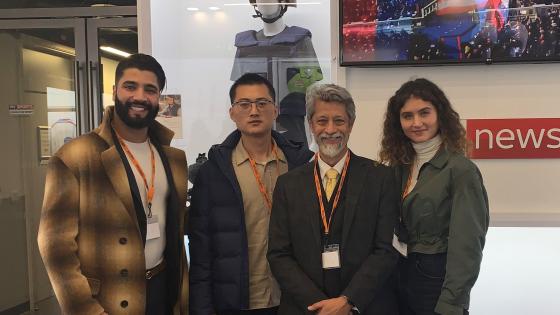 Organised by RocketMill, a full-service digital marketing agency, the half-day session was titled 'Back to the Future', with pre-event publicity featuring a still of the time-travelling De Lorean from the famous trilogy mid-flight. 
Students who attended were from the Marketing Management MA course and the International Marketing BA Honours course. They learned that just as with every technological development from the written word to the printing press, coloured newspapers, radio and then TV, the once new digital technologies have misled marketers into concentrating on what they can do instead of what they should do, and the belief that marketing "has changed forever", forgetting the basic truth that marketing is about putting people first. 
There were several excellent and relevant presentations by Sky Media about addressable TV advertising using AdSmart and by members of the RocketMill team, skilfully showcasing their expertise whilst hinting at the same general theme. 
Due to digital enabling marketers to measure tactical effectiveness, marketers are neglecting the importance of strategy and brand building, forgetting the close relationship between the two. Brand investment should transform sales performance, and performance interactions should transform brand. 
In terms of budgeting, the rule of thumb, say RocketMill, is to spend 60 per cent on brand. Technology has enabled advertisers to target people with absolute precision but getting through to them has become harder than ever. The solution, say RocketMill, is total performance storytelling.
The highlight of the event was a presentation by Dave Trott, a creative director and the author of several books about advertising including "Creative Mischief"; "Predatory Thinking: A Masterclass in Out-thinking the Competition"; and most recently, "One Plus One Equals Three: A Masterclass in Creative Thinking". 
After starting his career at BMP, he founded a number of agencies including Gold Greenlees Trott, Bainsfair Sharkey Trott and Chick Smith Trott. He reminded the attendees that £20 billion is spent on advertising in the UK each year, however 90 per cent of it is not noticed. The attendees learned about how to get it noticed through creativity by going back to the future. 
Dr El-Murad said about the visit: "The CMO of RocketMill invited me to this event at Sky Media back in October; I'm very glad I put it in my diary and took it up. The students and I were exposed to the latest thinking in digital marketing; we enjoyed the studio tour, and the catering was superb. This was one more example of the way that WBS has always sought to integrate theory, practice and employability in all we do. One of the students who came along is likely to get some work experience as a result."