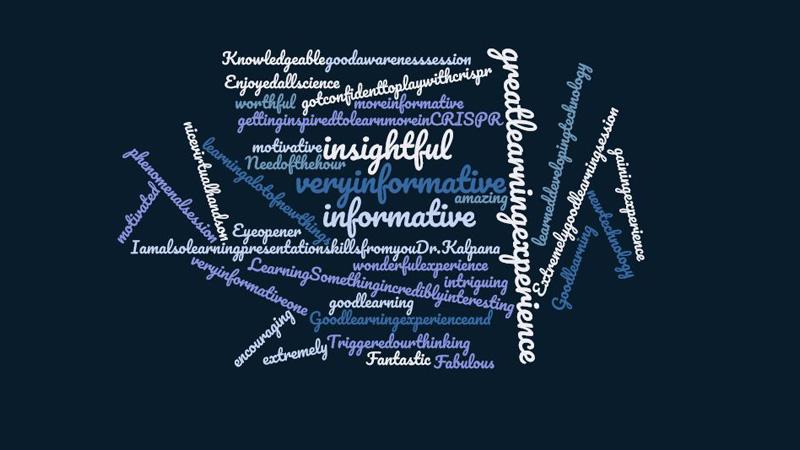 The online workshop was conducted for academics and researchers in India. It focused on knowledge exchange in CRISPR-mediated genome targeting and engineering in disease research and diagnostics. The programme and contents for the workshop was planned by the leaders of the Genome Engineering Laboratory, Dr Kalpana Surendranath and Dr John Murphy, and delivered in collaboration with the Centre for Drug Discovery and Development of Sathyabama Institute of Science and Technology in India. The workshop was carried out as a mixture of lectures, case study presentations and practical online sessions. 
Genome engineering has fundamentally changed the way that human diseases are classified and treated. The main goal of the Genome Engineering Laboratory at the University of Westminster is to train and develop young researchers in the methods and theoretical knowledge needed to investigate complex molecular and cellular biology problems using CRISPR-Cas9 technology. 
Dr Surendranath is the convener of the Human Genome Engineering using CRISPR/Cas9 short course at the University of Westminster, which is accredited by the Institute of Biomedical Sciences (IBMS-UK). This year, she also developed the 'Gene Editors of the Future' higher education student training and development programme for Life Sciences funded by the Quintin Hogg Trust. She has won many notable awards such as the Royal Society's top project award (2018) at the House of Commons of the UK Parliament and, with Dr Murphy, the Children with Cancer UK grant (2020).
Dr Surendranath said: "Since 2018, we have been working closely with Dr Krupakar with a focus to increase funded research activities and outputs. Over the course of the six days of the workshop we had the opportunity to discuss both the basics of the technology and effective ways of establishing a CRISPR laboratory. Most importantly, this platform has resulted in extended research collaborations and has helped us to initiate COVID-19 research together with Sathyabama University and different medical institutions in India." 
Speaking about the workshop, a participant from the Sathyabama Institute of Science and Technology in India said: "The workshop has helped me to familiarize with CRISPR technology. It was one of the best workshops I have attended so far. It was well organised. Kudos to the entire team."
Professor Andrew Linn, Pro Vice-Chancellor for research at the University of Westminster, said: "Research in our School of Life Sciences and our University-wide Health Innovation and Wellbeing research community focuses on developing and sharing new insights to make a real difference. This is an excellent example of the myriad ways that pioneering research at Westminster is improving lives across the world. Congratulations to the Genome Engineering team on an initiative which exemplifies our Westminster commitment to embrace the new with energy and imagination."
Learn about Biological and Biomedical Sciences courses offered at the University of Westminster.