To mark the 10th anniversary of Wool Week, M&S has collaborated with Campaign for Wool and the University of Westminster in a competition celebrating wool and young design talent. The winning design chosen by M&S was created by Fashion Design BA student Hannah Sosna.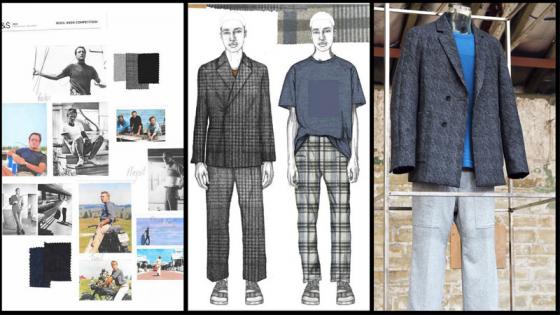 Third-year design students were invited to explore and celebrate the sustainable and versatile properties of wool by designing garments that could compliment future M&S Menswear collections.
 
Hannah's design comprises of a double-breasted wool blazer, wool fatigue trousers and a merino wool panel t-shirt. Since being chosen as the winner, Hannah has been involved in the development of the samples of her design which will be showcased digitally during Wool Week by Campaign for Wool and has been offered a work placement within the M&S Menswear Design Team.
Talking about the competition, Hannah Sosna said: "The world took a bizarre turn when I was investigating my design approach to the M&S Wool Week Competition. Suddenly I was home in Scotland with very few resources but a lot of time at my disposal. Spending most of my days watching old films, I quickly realised exactly where I would look for my inspiration: classic movies. 
"To me, M&S is a classic brand with tradition and quality at its core; therefore, I think it's fitting that I look back at these outstanding movies and ask myself, how can I explore this aesthetic and design ethos today and develop it for the contemporary man?"
Karen Hall, Head of Menswear Design at M&S, said: "The Campaign for Wool competition was of great interest as it is so important to support and develop young designers. Hannah's design caught our eye as she added modernity to heritage pieces, incorporating wool in new and exciting ways, whilst aligning with M&S brand handwriting. Since choosing Hannah's design as our winner, we have offered her a work placement with our in-house design team, so we can further explore her creative aesthetic together."
Andrew Groves, Professor of Fashion Design at the University of Westminster, added: "Taking part in the Campaign for Wool design competition was a brilliant opportunity for our students. It enabled them to gather tremendous insight into the complexity of the retail processes that are involved when working with leading brands. From working with the inhouse design teams to creating samples and collaborating throughout the creative process, it's been so exciting to see young design talent celebrated and supported and has been hugely rewarding for both the students and brands involved."
Learn more about Fashion courses at the University of Westminster.