The British Fashion Council has announced Brandon Choi, who graduated from the Fashion Design BA course at the University of Westminster in June, as the recipient of the prestigious Chanel scholarship.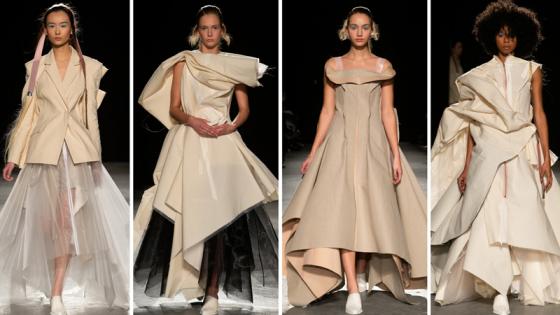 The MA Scholarship, funded by Chanel , is available to students accepted on a Fashion Design MA course in the UK. The scholarship covers the course tuition fees with a contribution to course costs or living expenses. Brandon Choi will study womenswear at Central Saint Martins.
The British Fashion Council (BFC) also announced that Dominic Huckbody, who also graduated from the Fashion Design BA course at Westminster, has been awarded the BFC MA Full Scholarship.
All applications for the BFC scholarships were shortlisted by panels of fashion academics, the BFC and industry representatives including Alexander Fury, Amanda Harlech, Chioma Nnadi, Karen Binns, Libby Page, Orsola de Castro and Pierre A. M'Pelé. The panel was chaired by Sarah Mower MBE, BFC Ambassador for Emerging Talent.
Professor Andrew Groves, Professor of Fashion Design at Westminster, said: "Given Brandon's exceptional skill in drape and cut, I am delighted that Chanel has recognised his outstanding talent. Likewise, Dominic's menswear collection thrilled press and industry alike, and this is a further acknowledgement of his talent."
"It was a pleasure to teach both Brandon and Dominic last year and to see their collections shown at London Fashion Week in February as part of the Westminster runway show. I know this support and recognition will help them both prosper in the next stages of their careers."
Caroline Rush, Chief Executive at BFC,   said: "We have been faced with truly the most impactful crisis of a generation and at this time, supporting and empowering upcoming talent is more important than ever. The BFC offers support to help young people at every level to realise their ability, ensuring the future growth and success of the British fashion industry. Academic scholarships provide young designers from all backgrounds with the opportunity to eventually work in the creative industries, paving the way for the future generations of talent."
Find out more about Fashion courses at the University of Westminster.