Fashion alumna Abiola Onabule, who graduated from the University of Westminster in 2017, has been named as one of the Designers in Residence by the Design Museum.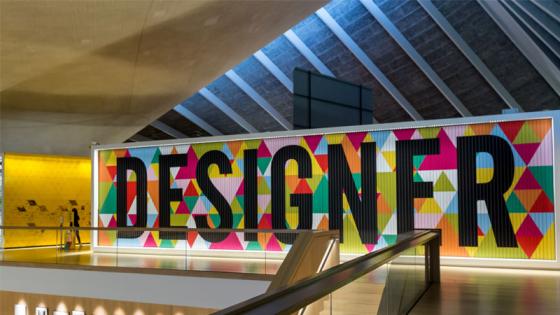 The Designers in Residence scheme is the Design Museum's flagship project that aims to find and support new and emerging talent. The programme provides the selected designers with the resources to research and consider new ways of advancing their practice, as well as discuss their work with other professionals and teams at the Design Museum. This year is the 13th edition of the initiative.
The theme of the project this year is 'Care.' The designers will explore empathy training, microbial diversity, mental health in Black British communities and a new collection of clothing inspired by the stories of women from West Africa who are living in the UK. As the designers are starting the scheme in the current coronavirus pandemic, they will be capturing the start of their projects virtually, before creating an onsite installation which will open in March 2021. 
Onabule creates clothing inspired by her Nigerian cultural heritage. As part of the scheme, she will explore how the exchange of craft and skills are an act of care and conversation. Her starting point is Aso Oke, a high-end, hand-woven cloth which was created by the Yoruba people of Nigeria, worn at important events such as weddings, funerals, and religious festivals. Her research will inform the design of a new contemporary collection that will be added to the Design Museum. 
Speaking about Onabule's achievement, David Brooks, Alumni Relations Officer for Alumni Experience, said: "We're thrilled that Abiola has secured this opportunity to further her talent with the Design Museum. Her skills are ideal for exploring the vital themes of this year's project, and she will be able to continue to put into practice the education and experience she developed at Westminster."
Professor Alexandra Hughes, Deputy Vice–Chancellor for Global Engagement and Employability at the University of Westminster, said: "The University of Westminster has a vibrant and thriving community of alumni, in the UK and across the globe. Our alumni make an impact on society and their communities in all sorts of ways, in many countries. We are immensely proud of the achievements of all our alumni, and I'm delighted to congratulate Abiola Onabule on behalf of the University on her success at the Design Museum."
Learn about Fashion courses offered at the University of Westminster.
All carousel images credited to Abiola Onabule.