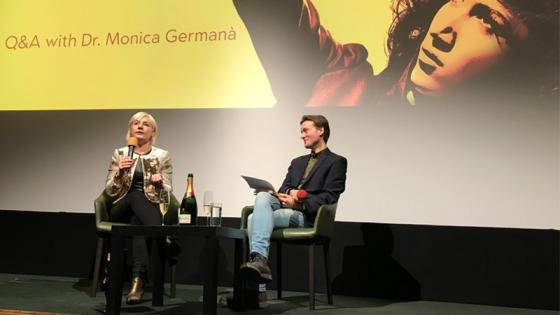 The event included a special screening of the classic Bond movie, Guy Hamilton's Goldfinger (1964), followed by a Q&A session with Dr Germanà, hosted by Dr Ian Kinane from the University of Roehampton. 
The screening and Q&A were attended by almost 100 people, with many members of the general public raising questions of gender politics and exploring the theme that arose from the book.
Following the Q&A session, the evening closed with a book signing and music in the cinema foyer where even more people attended. 
Dr Germanà's new book challenges the stereotypes attached to the diverse category of female characters commonly known as 'Bond Girls', and points to fashion as an essential tool to reassess gender roles across the James Bond franchise.
Talking about the event, Dr Monica Germanà said: "The evening buzzed with energy. Ninety-five people attended the Goldfinger screening and Q&A, and more arrived later for the book launch. 
"We received many questions from the general public, who seemed genuinely interested in the new ways of looking at the gender politics at work in the James Bond novels and films. The post-event feedback suggests that many felt they 'would never watch a Bond film in the same way again'". 
Learn more about English courses at the University of Westminster.