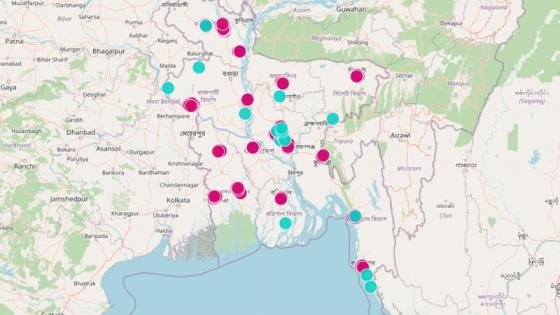 Reasat works for the international development organisation BRAC and is currently working on a project to protect the wellbeing of those living in urban slums during the COVID-19 pandemic through sustainable development and enhancing the urban resilience of cities in Bangladesh.
For the past few years, Reasat has been developing an online database of urban slum dwellers that can be used to access the needs of those communities and effective intervention designing. The database now holds data for over 435 slums around Bangladesh, which includes information on demographic and geolocations of BRAC slum upgrading interventions.
Upon creating a survey, he understood that there were lots of COVID-19 aid crossover through different organisations in some areas, but others were being left vulnerable with little to no support. Many organisations also stated in the survey results that they wanted to help but did not know where to start.
As a result, Reasat and his team decided to create their interactive urban slum map and encourage people to use the tool to determine where relief is needed and where it has already been distributed. The system enables both individuals and organisations working to distribute relief to plan more effectively, reduce duplication and maximise the reach of their collective aid efforts.
Talking about the project, Reasat said: "It is critical to start aid assistance as quickly as possible to avoid a humanitarian crisis, especially as there is a high possibility that the COVID-19 pandemic can lead to hunger for the lower income communities of Bangladesh. Our geo-spatial data map of urban slums is acting as an effective planning tool to determine the people most in need, reduce duplication and enhance reach.
"I am very grateful to have the opportunity to utilise my skills and knowledge gained through my studies at the University of Westminster and experience working as a Development Practitioner in BRAC to successfully implement this project."
To learn about the University's COVID-19 appeal, which is supporting vulnerable students impacted by the crisis, please click here.