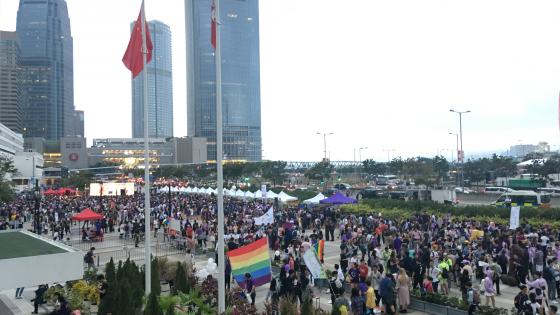 Hong Kong has been gripped by widespread protests and demands for greater democracy in recent months. 
While studies have begun to address the engagement of other marginalized groups such as women and ethnic minority in social movements and protest, the roles that lesbian, gay, bisexual, transgender, queer plus (LGBTQ+) people play in non-LGBTQ+ specific politics have been given little academic attention. This invisibilization of LGBTQ+ people in wider social movement raises many questions.
This roundtable will begin to explore the level of engagement of LGBTQ+ people in the movement for democracy in Hong Kong, pose questions about the intersections between LGBTQ+ rights and democracy and social justice, and ask whether these rights are articulated  in intersectional terms, or whether LGBTQ+ communities and rights are being overlooked or in the current protests in Hong Kong.
We will also discuss comparisons with LGBTQ+ people and rights discourses in other struggles for democracy and social justice.
Book your place
All are welcome but registration is required. Register now.
Speakers
Dr Suen Yiu Tung (Chinese University of Hong Kong), Eliz Wong (London School of Economics and Political Science) and Dr Daniel Conway (University of Westminster)
Chair: Dr How Wee Ng (University of Westminster)
Dr Suen Yiu Tung
Dr Suen Yiu Tung is Assistant Professor of the Gender Studies Programme, Associate Director of the Gender Research Centre, and Founding Director of the Sexualities Research Programme at the Chinese University Hong Kong. His research informs and is informed by critical current debates on sexual orientation and gender identity laws and policies in Hong Kong and is supported by the General Research Fund of Hong Kong (Numbers: 14606318 and 14607717) and a Canadian Social Sciences and Humanities Research Council of Canada Partnership Grant.
Eliz Wong
Eliz Wong is a PhD Candidate at the London School of Economics and Political Science. Her thesis is a four-city empirical comparative study on how family pressure on LGB Chinese is impacted by family planning and eldercare policies. Wong previously studied LGBTQ+ participation in Hong Kong Umbrella Movement for her MPhil in Gender Studies at Cambridge.
Dr Daniel Conway
Dr Daniel Conway is Senior Lecturer in Politics and International Relations in Social Sciences, University of Westminster. He recently conducted fieldwork in Hong Kong as part of a Leverhulme Trust Fellowship on the 'Global Politics of Pride: LGBTQ+ Activism, Assimilation and Resistance'. Conway has published on activism, sexuality and homophobia in South Africa.
Dr How Wee Ng
Dr How Wee Ng is Postdoctoral Research and Teaching Fellow in Humanities at the University of Westminster. Other than censorship, his research examines the exclusionary politics of representation in film, media and theatre in the Sinosphere. He is one of the co-founders of Queer Asia, a global platform which endeavours to challenge dominant ideas, forms, and representations of gender and sexuality.