Westminster Employability Award is an employability achievement award that supports your career and personal development by formally recognising the extra-curricular activities you complete during your time at the University.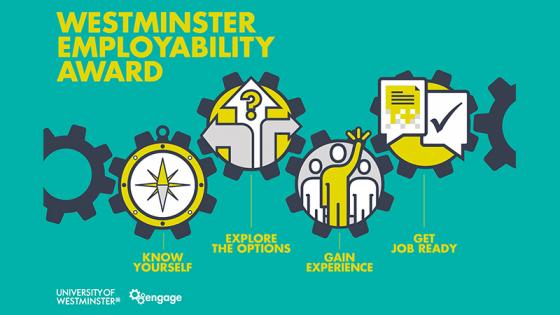 All students who are already participating in the Westminster Employability Award should note the final deadline to complete the Award, this academic year is Friday 1 May.
Final year and Postgraduate students MUST submit all activities for points by this date. 
Students can achieve a Bronze, Silver or Gold Award by completing activities we have tailored to adapt to the current situation, through a range of online activities.
To help students complete the Award, we have added a number of online Support and Feedback Sessions for students to complete, which can be found on Engage.
By taking part, students gain experience and develop key skills employers look for. Watch our video to find out how the Award has helped students to get job-ready and helped some of them secure internships at big companies such as Goldman Sachs.
In addition, on completion of the Award, students receive a digital badge they can display on their LinkedIn profile, and the chance to win a cash prize.
To join, log in on Engage, register to participate and start collecting points.
All general enquiries can be directed to [email protected].