Join our award winning mentoring schemes that can connect you with with industry professionals for a long-term mentoring relationship.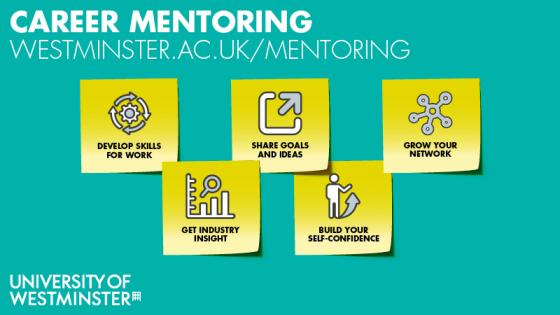 We offer both short- and long-term mentoring opportunities to help kickstart your career. Whether you'd like advice on how to get to your ideal job, want guidance on navigating career paths or are interested in developing your skillset, Career Mentoring can support you, even from the comfort of your home.
As a student during these uncertain times, the increasingly competitive job market has highlighted just how important it is to begin planning your career earlier on. Fortunately, our range of Career Mentoring opportunities offer you the chance to gain first-hand knowledge and insights into the world of work by being matched with a professional mentor. 
We have hundreds of mentors from a diverse range of industries, cultures and backgrounds who want to help you. They can equip you with the right mindset, share valuable professional insights, assist with developing your skillset and support the growth of your network, so you can tackle the working world with confidence. Open to both students and recent graduates (of the last 3 years), our long and short-term mentoring opportunities can take place online via Skype, Zoom or Microsoft Teams.
Career Mentoring Scheme (Long-term Mentoring)  
Our award-winning Career Mentoring Scheme matches participants for a six-month long mentoring relationship. We have two intakes for the scheme each year with cycle 1 applications now open!
To take part, you will need to be able to commit to a minimum of five mentoring sessions over a six-month period. The application process involves an online form through Engage, and if successful, attending an online mentee training session which will take place in October. Applications close on Thursday 1st October 2020 at midnight. You can apply via Engage here: https://engage.westminster.ac.uk/Form.aspx?id=662863
Ask a Mentor Service (Short-term Mentoring)
As an alternative for those who are looking for short-term mentoring opportunities, the Ask a Mentor Service offers you the chance to have a one-off conversation with one of our mentors. 
This one-off mentoring session can be used to ask for career advice on a range of topics, for example, guidance on job/ internship search, application or interview preparation tips, or for asking industry-specific questions. Applications are currently open, and you can apply via Engage here.  
We hope you make the most of these opportunities and feel inspired to start your mentoring journey and unlock your full potential! 
If you have any questions please contact us at [email protected] or visit our webpage.