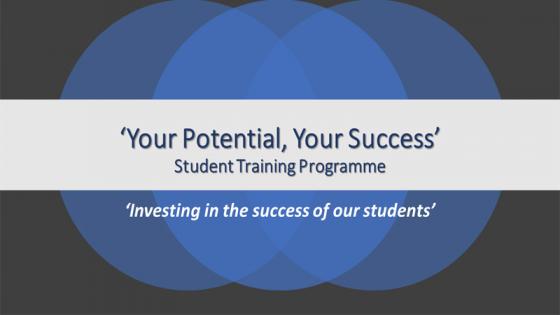 The University of Westminster is offering you a unique and exciting opportunity to take part in a free three-day personal development programme, delivered in partnership with an organisation called Grit. 
What is it? 
'Your Potential, Your Success' Programme is a personal development course that could completely change your university experience and support you to feel more empowered to succeed in the goals you set yourself.
Through the programme, you will:
gain new insights into who you are as a person and what drives you

look at what it's going to take for you to be successful at university and achieve what you're capable of

understand the things that get in the way of you being your best in life and find ways to overcome them

develop a strong support network of university friends
Student Feedback
Students who took part in two 'Your Potential, Your Success' pilot programmes in the last two academic years reported increased aspirations, motivations and confidence, and stronger relationships with friends, family and University staff.

In their own words:
"It was life-changing, my perspective has changed. I enjoyed it!"

"The programme gave me a new perspective and way of looking at life in general in that I have never thought of before. It also gave me a chance to make a connection with a community."

"An amazing personal investment that was a life-change in the positive way."

"I literally have nothing negative that I could possibly say about this experience. It's given me a huge wake-up call in terms of truly seeing the reality of the world I am committing to live within."
To take part in the programme, in the first instance, you will need to attend a one-hour enrolment session which will take place across the University. Location details will be provided on your ticket when you book on.
You will then be invited to participate in one of our intensive three-day workshops which will run from Wednesday 26 - Friday 28 February 2020 in Cavendish campus with a 1x follow-up day (date to be confirmed).
Find out more and book your place via Eventbrite. 
For further information, contact [email protected].