Join us for the inaugural University of Westminster's Big Idea Competition Final awards ceremony; celebrating creativity, innovation and student entrepreneurship. The Westminster Big Idea Competition is a University-wide student business idea competition sponsored by Santander Universities UK.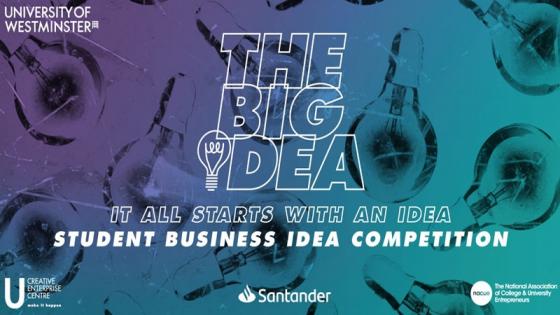 Four finalists across the four entry categories (Freelance, Maker & Inventor, Digital & Tech and Impact) will pitch their business ideas after which the audience will vote for the overall winner of the competition – Westminster's Big Idea 2019.
The winners and runner ups will be announced and awarded with their prizes by the Vice Chancellor of the University, Dr Peter Bonfield.
We are also excited to announce our keynote speakers: Deborah Okenla and Raj Sharma. They will share their entrepreneurial stories and perspectives on how they work with and support emerging entrepreneurs.
The evening will end with networking drinks and buffet service, offering an opportunity to meet and speak with our student and alumni entrepreneurs, sponsors, local entrepreneurs and industry guests.