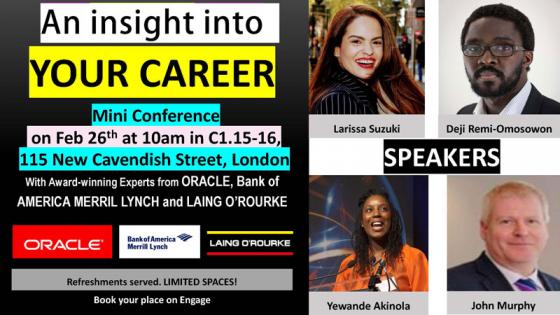 Programme
10:00 AM: Welcome Address
'A Day in the Life' – Larissa Suzuki  

'Career Opportunities' – Deji Remi-Owosowon 
Break: Refreshments and Networking
'Applications of Computer Science' – John Murphy

'Design Your Career' – Yewande Akinola
2:00 PM Conference closes
The event will take place in room C1.15-16 at Cavendish Campus.
Find out more information via Engage. 
About the speakers
Larissa Suzuki
Larissa is a multi-disciplinary and passionate computer scientist, who specialises in: smart cities, AI & Machine Learning, emerging technologies (AR, IoT, IIoT), ethics in computer science, business models, computing for medicine (cancer diagnosis and digital imaging processing), digital product design and management. She is a Senior Principal Product Manager at ORACLE and Honorary Associate Professor in Computer Science at UCL. She holds a PhD in Computer Science from UCL in a joint program with Imperial College London and the MIT. She is a Fellow of the Royal Society of Arts, the Chair of the Tech London Advocates Smart Cities, an Associate Fellow of the Higher Education Academy, and a reviewer of the IEEE and Springer scientific journals. She has received honours and awards from Google, Intel, MIT, Microsoft Research and the EPSRC for her contributions to the technology industry and international science.
Deji Remi-Omosowon
Deji Remi-Omosowon is a Computer Scientist and Software Engineer who has spent over a decade building and engineering software across various domains: telecoms, finance, human resources, mobile security, and engineering. He is currently a Director at Descartes Ltd. He previously worked major financial and engineering organisation including Bank of America Merrill Lynch, J.P. Morgan Chase, and NSK Europe Ltd. He holds a PhD in Computer Science from Nottingham Trent University, UK. He is an active researcher in industry with current research interests in Optimisation, Machine Learning, Natural Language Processing and the Semantic Web, all with practical, real-world applications. He has published scientific papers in the area of Computational Intelligence. He is a professional member of the BCS and a member of The Specialist Group on Artificial Intelligence (SGAI).
Yewande Akinola
Yewande is a chartered engineer and innovator with experience and responsibilities that include Design and Construction, Innovation and Manufacture of buildings and systems in the built environment. She has worked on projects in the U.K., Africa, the Middle East and in East Asia. She holds a BSc degree in Engineering Design and Appropriate Technology from the University of Warwick and a Masters degree in Innovation and Design for Sustainability from Cranfield University. Yewande has received honours and awards including the IET's Young Woman Engineer of the Year award, the Young Engineer of the Year award from the UK Society of Public Health Engineers, the PRECIOUS Award for Outstanding Woman in STEM. In the 2020 New Year Honours list, Yewande was awarded an MBE for services to engineering innovation and diversity in STEM.
John Murphy
John is a top-performing technology project manager with significant commercial, operational and strategic expertise. He studied electronics at Birmingham University. His experience includes IT technology transition and transformation, developing a 'digital platform' for major project sites that ensured key financial and performance data was fully audited, visible and retained. He directed the planning and sourcing of advanced manufacturing solutions (PLM/MES) for a new £250M fully automated modular product factory utilising automated plant floor and industrial robots. Currently, John is involved in delivery of business facing projects for Australia and has an Input into the definition and execution of a three-year IT strategy for the business, aligning technology with business needs, risk management and regulatory requirements.