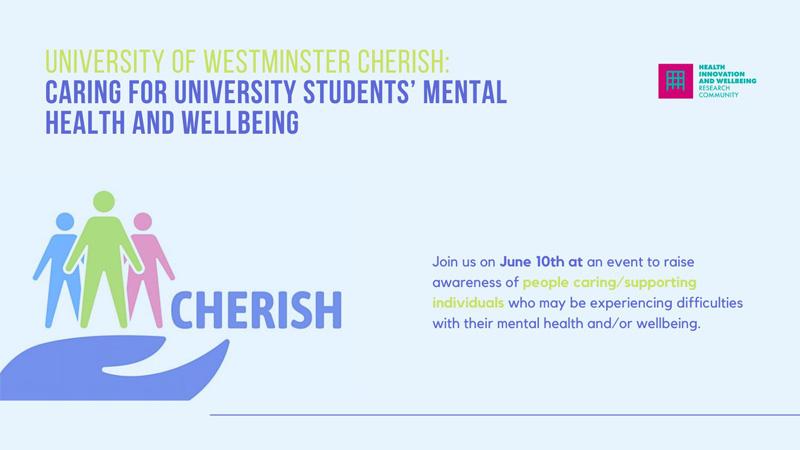 To mark Carers Week 2021, the University of Westminster is running a CHERISH carers event on Thursday 10 June, which aims to raise awareness of people caring/supporting individuals who may be experiencing difficulties with their mental health and/or wellbeing. 
Whilst poor mental health has been on the rise for several years amongst this group, it has been exacerbated by the COVID-19 pandemic, placing greater demand on supportive provisions from professionals, charities, and organisations. In addition, friends, family members, colleagues, and many others are finding themselves in a supporter/carer role. 
Whilst this can be a rewarding experience, it can also be overwhelming. It is important that supporters/carers look after their mental health and wellbeing and feel supported in their role. 
The CHERISH Carers Workshop, organised with the support of the University's Health Innovation and Wellbeing Research Community, will offer a variety of talks and panel discussions from academics, persons with lived experience, and professionals working in different sectors to support mental health. We will cover topics focused on the diversity of what a supportive role may look like, ranging from informal to professional experiences, ways to look after yourself as a supporter/carer, and discussions about the role organisations such as Universities, charities, health care services can play in supporting supporters/carers.
Find out more and book your place via  Eventbrite.
For any questions, please get in touch with Nina Smyth or Rafaela Tripalo.