Recording studio
Our Recording studio (District 9) is a fully comprehensive suite ideal for pre-production, mixing, tracking and mastering.  District 9 is equipped with an SSL 48 channel Duality and Pro Tools HD system, an extensive collection of software plugins and state-of-the-art PMC monitoring options, and an array of professional creating tools.
The control room has two acoustically adjustable live rooms to each side, which allows engineers to record multiple musicians at the same time, maintaining full sound isolation between instruments to suit any session's demands. There is a variety of outboard gear, including 5.1 in both the control room and live rooms. The control room also has a 32 channel link with the Live Venue (Area 51). The patch-bay system allows for three further rooms to be patched into the mixer.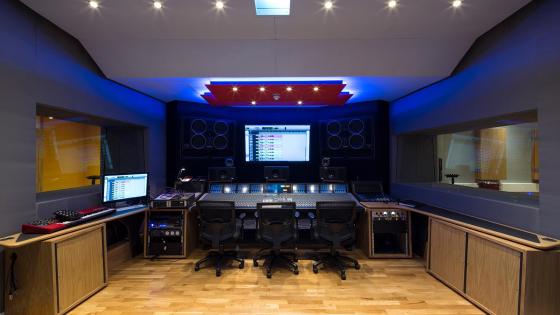 Live venue
Our live venue (Area 51) space boasts 200m2 of floor space with a 25m2 stage. Fully equipped and air conditioned, the venue can accommodate full-scale pre-production rehearsals for bands, large ensembles or orchestras and has access to a full backline with its own complete PA system and lighting rig.
Area 51 runs two Avid Venue SC48 mixing consoles that can deliver up to 48 channels of pristine audio through the 12 L'Acoustics ARCS Focus speakers and SB18i subs (six each), while on the stage, aside from a wide range of backline to choose from, there are eight monitor wedges for fold-back. Above the entire stage, there is a permanently installed HD camera, which captures the whole performance area and can be set up quickly for livestreaming.
With easy access on same level to a large parking area, for seamless load ins/outs, Area 51 is the perfect venue choice whether you are putting on an event, gig, artist or album showcase, or as a full-production rehearsal facility.
Booking enquiries
If you'd like to know more about any of our venues, just give us a call or send us an email.
+44 (0)20 7911 5000 ext 68463
Contact us
Melvyn Williams, Head Technician:
+44 (0)20 7911 5000 ext 68463
Opening hours (GMT): 9am-5pm Monday to Friday