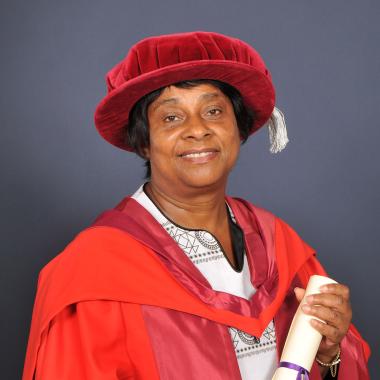 Baroness (Doreen) Lawrence
Born in Jamaica, Doreen Lawrence moved to London aged 9 and completed her education in London.  She married Neville Lawrence in 1972.
Following the murder of their son Stephen in 1993, Doreen and Neville Lawrence claimed that the Metropolitan Police investigation was not being conducted in a professional manner, citing incompetence and racism as prime flaws. In 1999, after years of campaigning, and with the support of many in the community, the media and politics, a wide-ranging judicial inquiry was established by Jack Straw, the Home Secretary
She founded the Stephen Lawrence Charitable Trust to promote a positive community legacy in her son's name after his murder in 1993.
She was appointed OBE for "services to community relations" in 2003, and was created a Life Peer in 2013.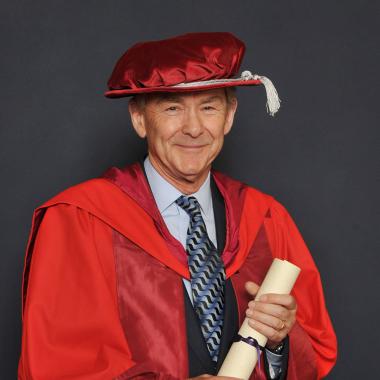 David Shaw OBE
The regeneration of Regent Street was very much David Shaw's personal vision, and he lead on this for The Crown Estate over the last decade.  He is also the man who brought Apple to the UK, opening their first store outside of the US. As Head of the Regent Street portfolio David Shaw delivered a £1 billion regeneration programme, a key part of which involved transforming the street into one of the world's leading retail destinations.
Under his auspices the Regent Street Heritage Plaque scheme was created as a way of highlighting the contemporary cultural significance of Regent Street in popular culture. Not least of these was the erection of the Pink Floyd Heritage Plaque in May 2015 on the site of the former Regent Street Polytechnic at 309 Regent Street, now the University of Westminster, where Pink Floyd was formed.
He was awarded an OBE for services to the retail industry. The award also recognises his voluntary work, which has particularly focused on the Orpheus Foundation music charity. David Shaw said: "This award is a great honour and particularly delights me for the recognition it gives to the wonderful work done by all those working on the Regent Street regeneration and at the Orpheus Foundation."
David joined The Crown Estate in 2002 and was Head of Regent Street Portfolio. A chartered surveyor and member of BCSC and IPF, David is responsible for the £2.4 billion Regent Street portfolio. Since 2002 Regent Street has undergone a major redevelopment, and David has overseen this £1 billion investment programme including the investment partnership for Regent Street with Norges Bank Investment Management.
David was formerly property director of a Nomura subsidiary focused on real estate partnerships, a management board director of retailer the Burton Group responsible for retail planning and property and director of Rosehaugh subsidiary Shearwater. He also sits as a director the New West End Company.
Dean Hawks
Dean Hawkes is an internationally recognised British architect and award-winning academic. Born in 1938 he studied at Regional College of Art, Manchester and Clare College, University of Cambridge. His career combined practice, teaching and research, and he is distinguished and highly regarded in the area of architecture/environmental/climate.
He was a founder member of the Department of Architecture at Cambridge University, and, later, Director of the Martin Centre for Architectural and Urban Studies. He held the Chair of Architectural Design at the Welsh School of Architecture, Cardiff University from 1995 – 2002, and has held visiting professorships at the Chinese University of Hong Kong, the National University of Singapore, the Mackintosh School of Architecture, Glasgow School of Art, the Department of Architecture, Huddersfield University and the Leicester School of Architecture, De Montfort University. He is emeritus professor at Cardiff University and an emeritus fellow of Darwin College, University of Cambridge.
Dean Hawkes was in practice with Stephen Greenberg as Greenberg and Hawkes where his projects won a number of RIBA Architecture Awards. They were exhibited at the Royal Academy of Arts, London and at the Venice Biennale. He has published numerous books and essays on architecture and contributed to many journals, including the Architects' Journal and the Architectural Review.
In 2012 he was awarded the prestigious Annie Spink RIBA Award for excellence in architectural education.
Dr David Hitchcock
David Hitchcock has been a member of staff at the Westminster Business School for over 40 years. He started as a Principal Lecturer in 1975, going on to become Head of Department in 2006. In 2009 he was appointed Associate Dean – Learning and Teaching, and in 2013 Associate Dean – Learning, Teaching and Quality, leading on all areas of learning, teaching and quality in the School. He was Acting Deputy Dean from 2011-2012 and Acting Dean from 2015 to 2016.
Westminster Business School is one of London's leading centres for professional business education. David Hitchcock has been closely involved in the leadership and management of the school over a period of many years.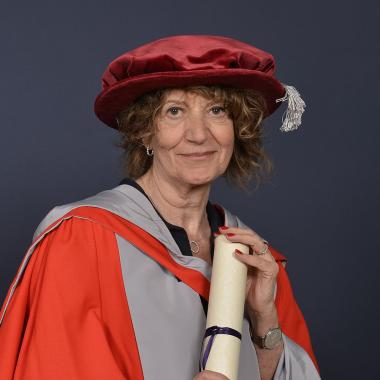 Dr Susie Orbach
Susie Orbach is a psychoanalyst and writer. She co-founded The Women's Therapy Centre in 1976 and The Women's Therapy Centre Institute, a training institute in New York, in 1981. Her books include Fat is a Feminist Issue, Hunger Strike, On Eating, What's Really Going on Here, Towards Emotional Literacy, The Impossibility of Sex and Bodies. She has a clinical practice seeing individuals and couples.
She was 2008 – 09 Visiting Scholar, The New School for Social Research from 2008-09, Visiting Professor, London School of Economics, Sociology from 2002-08, Visiting Professor, London School of Economics, Gender Institute from 1998-2002 and is currently an Honorary Fellow of Regents College, London.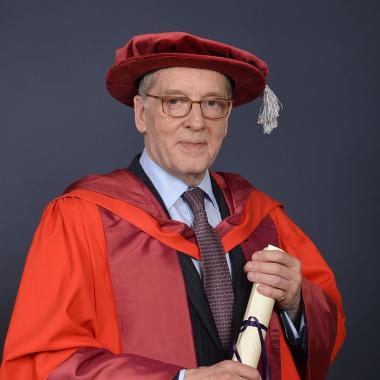 John McIntosh CBE
John McIntosh was Headmaster of the London Oratory School – one of the most successful state comprehensive schools in London and the UK – for 29 years until his retirement in December 2006.
He has served as a governor of several schools and of the University of Buckingham, as well as on numerous other educational bodies in the secondary, voluntary and higher education sectors, and assisted in the creation of the free schools in London. His educational philosophy is one of pursuing huge talent in pupils of every background, in art, music and sport, and allowing their academic talents to flow from that, to the benefit of individual pupils and of the school community.
John McIntosh continues to work with ministers and the Department of Education. He is respected by ministers of education for his expertise and his ability forensically to review proposals and policies across the sector. His currency within the sector is an asset.
He joined the London Oratory School as an Assistant Master for Mathematics at the age of 21 in 1967, was promoted to Deputy Headmaster in 1971 and was appointed Headmaster in 1977. He founded The London Oratory School Schola.
McIntosh was appointed to the Conservative think tank, the Centre for Policy Studies Education Group, in 1982; he became a member of its Council in 2005. Between 1988 and 1991, he served on the Education Advisory Council of the Institute of Economic Affairs. He served on the Health Education Council between 1985 and 1988, and on the National Curriculum Council between 1990 and 1993. He has been a member of the Catholic Union of Great Britain since 1978. According to The Tablet, he is the 96th most influential lay Catholic in Britain.
He was appointed Officer of the Order of the British Empire (OBE) in 1996 and Commander of the Order of the British Empire (CBE) in the 2013 New Year Honours for services to education. He was made a Knight of Merit of the Sacred Military Constantinian Order of Saint George in 2012. He was also made an additional member of the Headmasters' Conference.
He is currently a member of the National Curriculum Review Advisory Committee, Dean and Education Advisor of the Academy of St Cecilia in London, a member of the Abbot's Advisory Committee at Ampleforth College, chairman of governors of St Philip's Preparatory School in London, a trustee of the English Schools Orchestra and Choir, a trustee of The London Oratory School Schola Foundation, and a trustee of the LOST Theatre Company.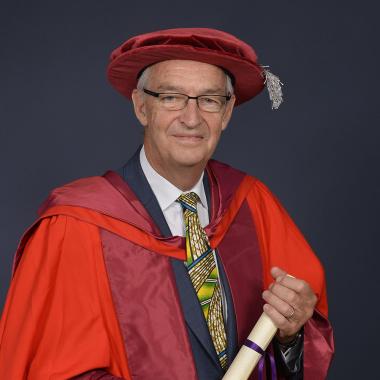 Jon Snow
Jon Snow is a journalist and presenter, currently employed by ITN, which he joined in 1976, becoming Washington Correspondent in 1984. He is best known as the longest-running presenter of Channel 4 News, but has travelled the world to cover the news – from the fall of the Berlin Wall and the release of Nelson Mandela, to Barack Obama's inauguration and the earthquake in Haiti.
His many awards include the Richard Dimbleby Bafta award for Best Factual Contribution to Television (2005), Royal Television Society awards for Journalist of the Year (2006) and Presenter of the Year (2009), and the Charles Wheeler Award for Outstanding Contribution to Broadcast Journalism (2014).
Snow was Chancellor of Oxford Brookes University (2001 to 2008). He is Hon Professor and guest lecturer on Stirling University's Film & Media Studies course, Hon Fellow (since 2006) of the Royal Institute of British Architects, and has honorary degrees from the Universities of Aberdeen and Liverpool.
He served as ITN's Washington correspondent (1983–86) and as diplomatic editor (1986–89) before becoming the main presenter of Channel 4 News in 1989. In 1992 he was the main anchor for ITN's Election Night programme, broadcast on ITV.
In 2002 he returned to radio, presenting Jon Snow Reports on Oneword Radio, a weekly show and podcast. He wrote regular articles for the Channel 4 News website and 'Snowmail' – a daily email newsletter on the big stories coming up on the evening edition of Channel 4 News.
On 14 June 2011, Snow presented the multiple award-winning investigative documentary Sri Lanka's Killing Fields, directed by Callum Macrae, which documented war crimes committed in the final days of the Sri Lankan conflict in 2009. The programme consisted of some of the most horrific footage ever broadcast in the UK; its second part, Sri Lanka's Killing Fields: War Crimes Unpunished was broadcast in March 2012.
Snow declined an OBE because he believes working journalists should not take honours from those about whom they report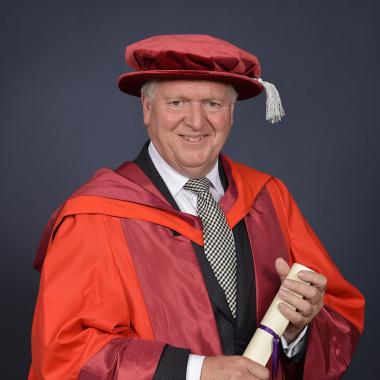 Paul Salmon
Paul Salmon is Managing Director of Byrne Bros, one of the UK's leading concrete frame contractors. Byrne Bros have been involved in the construction of many London structures including: The 2012 Olympic Arena, the O2, The Shard, The Emirates Stadium, the HSBC Tower, Wimbledon No1 Court, HSBC Tower and One New Change. The company is currently involved in the construction of the US Embassy and the Bloomberg offices.
Paul entered the construction industry in 1973 as an indentured trainee with George Wimpey. (At the time Wimpey was one of the leading companies in the industry and operated a very comprehensive training scheme). In 1980 Paul joined John Mowlem as a sub agent on a large retail development in Essex. He was also nominated for inclusion on the Mowlem fast track management scheme.
In 1988 Paul was invited to join Byrne Bros by the late Patsy Byrne. His role was to take a lead in making the jump from a small subcontractor to a larger specialist operation. In 1999 Paul was appointed a director of Byrne Bros and took over as Managing Director in 2005.
The building of the Shard presented several unique challenges. First, the programme demanded that the superstructure be started well ahead of the sub structure being finished. This top down construction consisted of completing all the piled and secant (interlocking piles) walls with internal piles containing steel plunge columns. Construction of the super structure pour only took place after the completion of the ground floor slab. The slip form core was started while at the same time digging below it to create the basement. The weight of the core is taken directly on the plunge columns and the diaphragm created by the ground floor slab controls the lateral stability of the core.
To construct a building of this height it was necessary to develop concrete pumping techniques that had not been widely used before in the UK. In particular it was necessary to develop a complete suite of concrete mixes to cope with the varying heights, temperatures and strengths of concrete to be used.
The Olympic Stadium was unique but in common with other large stadia required large raking beams to carry the terrace levels. To meet the programme it wasn't practical to cast them in situ so Byrne Bros developed a method of pre casting these beams inverted and then using a particularly large holding jig to turn them 180 degrees using site cranage. Each weighed about 20 tons and were very difficult to cast accurately.
Byrne Bros has a history of involvement with a wide range of charitable activities including raising over £153,000 for the Lighthouse Club following the success of sales of The Naked Truth calendar. The Lighthouse Club provides financial support to families suffering hardship following the loss of income from a construction worker who has suffered an accident or illness. The company has active apprenticeship and graduate schemes. In 2014 a Byrne Bros apprentice won "Apprentice of the Year" at the CONSTRUCT federation event. In 2015 3 Byrne Bros apprentices were nominated for the CITB (NCC) "Formwork Operatives Award"(with one of them winning the overall award)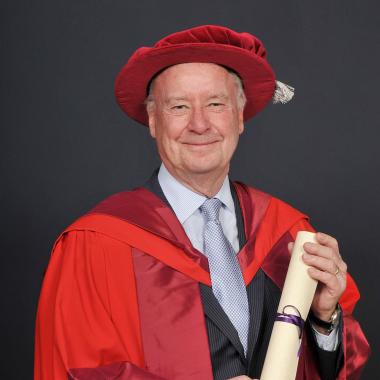 Peter Anwyl
Peter was appointed as Executive Director of International Students House in 1993. He is the Secretary of the International Students Trust and the Toyota-Shi Trevelyan Trust. He is a former chief executive of the University of London Union and the Student Centre at Colorado State University, former university Governor and retired Chairman of the Finance Committee of the Lutheran Council of Great Britain.
He has been a member of the University of Westminster Scholarships Committee since 2002.
ISH itself has a scholarship programme which, together with the support of partners such as the University of Westminster enables university students from the developing world to study in London. Last year the scholarships offered by ISH enabled 37 students from 112 countries to come to London for a life changing opportunity and experience which they can take back to their home country. ISH has contributed around £190,000 towards scholarships for 23 places at the University both this year and last year.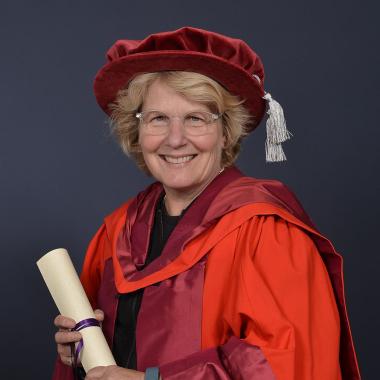 Sandi Toksvig OBE
Sandi was born in Copenhagen, Denmark in 1958, her parents met at Bush House in London while they were both working for the BBC – her father was a celebrated television and radio broadcaster. She grew up in Africa and the United States before starting her comedy career at Girton College, Cambridge University, writing and performing in the first all-woman show for the Cambridge Footlights alongside gaining a first class degree. While still at university she performed at the first night of The Comedy Store in London and for many years was part of The Comedy Store Players, an improvisational comedy team.
After leaving University, Sandi both performed in musicals and straight plays before going into television – her debut was presenting the children's series No. 73 (1982–86).
Sandi has gone on to become one of the best-known figures in British popular culture. Her work as a writer is extensive and crosses theatre (including musicals), radio and television as well as both fiction and non-fiction books.
After her TV debut, Sandi went on to do other children's television and her own show Toksvig. Her television work then expanded further to include factual programmes such as Time Team, and Great Journeys (in which she canoed across Africa) and a six part documentary series about Sudan for Al-Jazeera English. She has also acted in sit-coms such as The Big One (which she co-wrote) and more recently BBC's Up the Women. For many years she was team captain on Call My Bluff. Other panel shows include Whose Line Is It Anyway?, Mock the Week, and QI. She was the host of What the Dickens, Antiques Master and presented Channel 4's 1001 Things You Should Know before becoming host of the channel's long-running quiz show Fifteen to One in 2014.
In 2010 she brought live drama back to television when she conceived, co-wrote and hosted Theatre Live for Sky Arts television. She both wrote and produced plays for the channel including her own film The Man starring Stellen Skarsgard, Stephen Fry and Zoe Wannamaker.
Sandi is a familiar voice for BBC Radio 4 listeners, as the chair of popular programme The News Quiz from 2006 until recently, and for many years as the host of the travel programme Excess Baggage.
Sandi also writes for the theatre. Sandi and Elly Brewer wrote a Shakespeare deconstruction, The Pocket Dream, which Toksvig performed in at the Nottingham Playhouse and in the West End in 1992. In 2002, she and Dilly Keane co-wrote a musical Big Night Out at the Little Palace Theatre, written for the Watford Palace Theatre, in which they appeared with Bonnie Langford. In September 2012 her play Bully Boy starring Anthony Andrews was the opening production of London's new St James Theatre. She is currently writing a musical.
Sandi has written many books including fiction and non-fiction books for children and adults. She has been a columnist for Good Housekeeping magazine for more than twenty years and for seven years wrote every week in The Sunday Telegraph. In 2009 a collection of her Telegraph articles were published in book form as The Chain of Curiosity. Her latest novel Valentine Grey was published in the autumn of 2012 and her book on manners will be published in the autumn of 2013.
She is the current Chancellor of Portsmouth University and is involved with many charities focusing on civil liberty, women's rights and education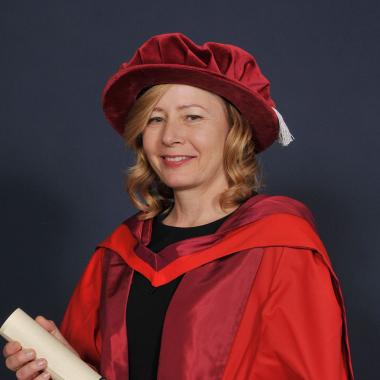 Sarah Mower
Sarah Mower, a renowned fashion critic, and columnist for publications including American Vogue, is internationally acclaimed for her forthright and decisive critiques. A passionate advocate of emerging British talent, her prolific support for young British designers has been an instrumental force behind the rise of designers such as Christopher Kane, Erdem, Mary Katrantzou, JW Anderson, Jonathan Saunders, Meadham Kirchhoff and Simone Rocha.
In 2009 the journalist was appointed as the British Fashion Council's Ambassador for Emerging Talent. Also serving as co-chair of the BFC NEWGEN Committee since 2009 and a founding member of the London Showrooms, Sarah Mower plays a significant role in raising the profile of the British fashion industry within the global community and ensuring that the future UK trained fashion talent is given the global platform needed to enable students to have the very best start to their careers. She was awarded an MBE in 2011 in recognition of her influential contributions.
Over the last ten years Sarah Mower has supported the BA Fashion Design course, and now the new MA Menswear course, championing not only the courses but individual students and graduates in her roles at both Vogue and the BFC. She is an outstanding advocate for UK Fashion education and ambassador of this country's fashion industry in the global context. She has proactively advised on the development of our fashion courses and regularly visits Harrow campus to meet emergent fashion talent and communicate her wealth of experience in the fashion industry to our students.