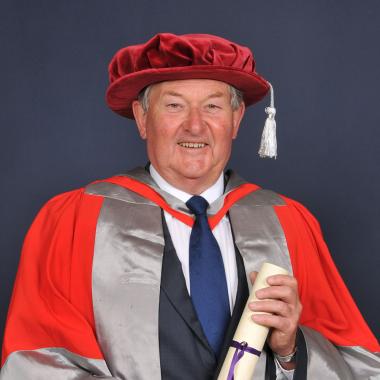 David Phillips
David Phillips gained his doctorate at the University of Birmingham. He then spent two years on a Fulbright scholarship as a post-doctoral research fellow at the Academy of Science in Texas. It was there, under the supervision of Professor Albert Noyes, that he developed his lifelong passion for photochemistry.
He worked at the USSR Academy of Sciences in Moscow at the height of the Cold War in the early 1960s. David was the only westerner among 2,500 people, and was trailed and occasionally harassed by the KGB. He returned to the UK as a lecturer at the University of Southampton and has had a glittering academic career. He's been a professor at the Royal Institution and at Imperial College, where he was Head of Department and Senior Dean and is now an Emeritus Professor.
His research output is prodigious, with 590 research papers, books, reviews and formal reports. He has supervised more than 60 PhD students and collaborated on research with colleagues in academic institutions and industry from around the world.
David has held major roles within the scientific community: Vice-President and Honorary Life Fellow at the British Association for the Advancement of Science, Honorary Life Fellowship at the Royal Institution, and honorary doctorships at a number of universities. These culminated in a stint as President of the Royal Society of Chemistry.
David is feted for his exciting live demonstration lectures to the young and to the lay public, which have been seen by at least 250,000 people.
In 1999 David was awarded an OBE for Services to Science Education, and in 2012 the CBE for services to Chemistry. In 1997 he won the Michael Faraday Award of the Royal Society. The honour that means the most to him is the award of the Porter Medal in 2010. Porter was a Nobel Prize-winning pioneer photochemist and a close colleague and friend of David's.
David is currently a member of the Royal Society's Education Vision Committee, which is considering what education will look like in 2030.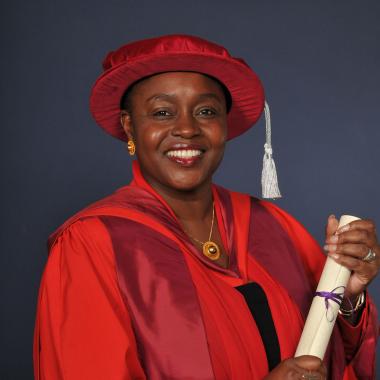 Hilary S Carty MBA CCMI
Working internationally as a consultant, facilitator, coach and speaker, Hilary Carty is the leader of the consultancy organisation Co-Creatives. With over 25 years as a cultural leader, Hilary has spearheaded a range of successful initiatives with some of the UK's most prominent arts and cultural organisations and now draws on that creative experience to advise a range of sectors and organisations.
Hilary has undertaken a number of influential roles including Director of the Cultural Leadership Programme, a £22m government investment in excellence in leadership within the UK cultural and creative industries; Director, London (Arts) at Arts Council England; Director, Culture & Education at London 2012, the successful Olympic bidding team; and Director of Dance for Arts Council England, reflecting the passion for dance that ignited her enthusiasm for a career in the arts.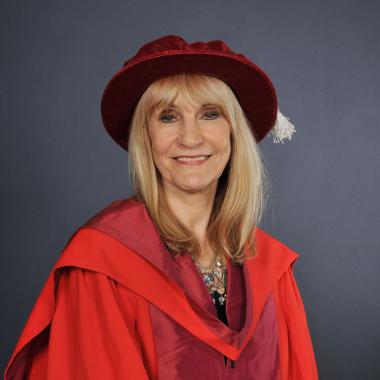 Lynn Faulds Wood
Currently co-presenter of BBC's Watchdog: Test House, Lynn Faulds Wood is best known as a consumer champion and campaigning tabloid journalist, having worked for over 35 years in the fields of television and print. She began her working life in newspapers as a consumer investigator, moving into television in the eighties, when with her husband John Stapleton she co-presented Watchdog for eight years. After a successful treatment for bowel cancer in the 1990s, she left Watchdog to concentrate on making medical programmes, including the award-winning documentary "Bobby Moore and Me", for which she was named Medical Broadcaster of the Year. She later set up a charity to raise awareness of bowel cancer, which brought her the title European Woman of the Year in 2006.
Since then she has broadcast as GMTV's consumer champion, worked on the BBC's programme "Old Dogs, New Tricks", and continued her medical campaigns. In 2002 she co-founded the European Cancer Patient Coalition which she chaired as President until 2009. She also helped to set up MEPs Against Cancer and is credited with helping to get cancer on the official European Agenda.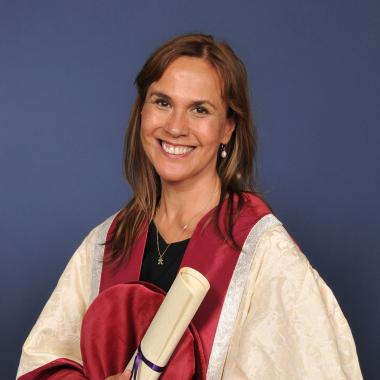 Maggie Lee
After gaining her degree in Philosophy at the University of Hull, Maggie joined British Rail, where she quickly rose to become Personnel Manager in its catering business. After stints as Personnel Director at BAE Systems and then ICL Sorbus, she was headhunted by Pearson Television to work for Greg Dyke. She was Director of Resources at a time when the business was becoming the world's largest independent production company.
She began her front-of-camera career as a news anchor and cultural interviewer for Arab TV. She has since produced radio and film packages for outlets including the Irish broadcaster RTE and the New Economics Foundation.
As a journalist, she has contributed to a variety of UK and international publications including the Independent on Sunday, the Times Educational Supplement, openDemocracy, and CNBC's European Business.
Maggie has been a non-executive director on the boards of the Financial Ombudsman Service and NHS Professionals. She also launched and ran her own consultancy, which acted in an advisory basis for a number of arts and educational institutions. Maggie is a trustee of the ArtsED, the nationally acclaimed performing arts school supported by Andrew Lloyd Weber. She is also senior adviser to Beringea, the international venture capital firm that manages half a billion dollars of funds.
Maggie has a lifelong commitment to equal opportunities. She has been a member of the board of the Royal Commonwealth Society, a Non-Executive Director of The Community Fund, and for many years was a Trustee of The Runnymede Trust, a charity committed to social and racial justice.
Maggie has just completed 9 years as a member of the Court of Governors of this University. She sat on a number of committees and supported the Vice-Chancellor and his team in the development and appraisal of the University's strategy and the promotion of the University's brand. She also applied her experience in finance, helping the University identify new sources of funding, and remains an active member and supporter of the Cinema Advisory Board, dedicated to restoring and re-opening our historic Regent Street Cinema.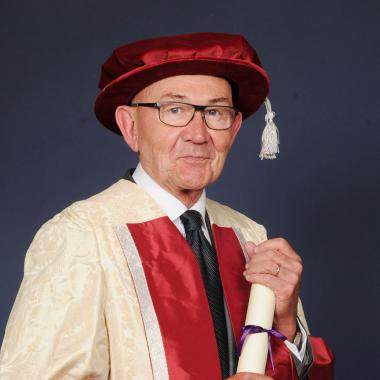 Mike Staples
Mike Staples studied Quantity Surveying at Portsmouth, then joined the consultancy David Bellfield and Everest. He quickly moved to a more adventurous company, the Hanscomb Partnership, where he remained for 30 years.
One of his first projects was working with Norman Foster on the Sainsbury Centre for Visual Arts at the University of East Anglia. That was followed by an early Richard Rogers venture for Inmos in Newport – the first silicon chip factory in the UK.
Other notable projects for Rogers included the New Parliament Building for the National Assembly for Wales, and Terminal 4 Madrid Barajas airport, which won the prestigious Sterling prize. For Norman Foster he also worked on a £250 million development for HM Treasury in Whitehall.
Mike achieved an equal equity partnership within 4 years and was appointed Managing Director when he was only 33. He led a team that transformed the UK business into a recognisable brand, before taking the company into the wider European market.
In 2012 he joined Davis Langdon. That company is now owned by AECOM, one of the world's biggest construction consultancies. Mike is a senior director there and is currently helping to deliver two very tall towers in Bogota, Colombia, which are designed by Richard Rogers. This is not only changing the skyline of Bogota but also regenerating the city and developing local skills to leave behind a positive legacy.
Mike has recently retired from the University's Court of Governors, where he served for 9 years. His first encounter with the University was nearly 20 years ago when he worked on the redevelopment of the Harrow Campus. During his time as Governor he served on the Property and Finance Committee. He also applied his experience and guidance to the development of P3 from neglected basement to thriving exhibition space.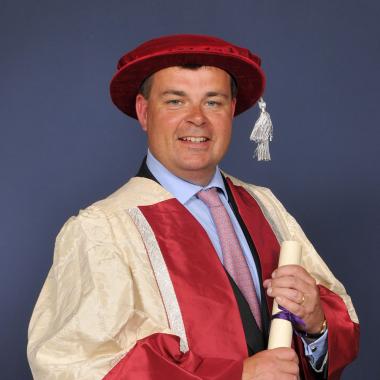 Richard Lane
Richard's first degree, from the University of Exeter, was in Economics and History. He did his conversion course at the College of Law in York. He joined Farrers to do his articles and in 1995, after a year with the company, he left to work in private practice. He worked for Rowen Maw in London for 2 years specialising in Mergers and Acquisitions. It was here that he honed his negotiating skills, working with clients like Cable and Wireless, ICA and, most importantly for him, Reuters.
Reuters appointed Richard Head of Mergers and Acquisitions and sponsored him to do his MBA at the London Business School. As Reuters's legal counsel, he supported a massively ambitious venture capital fund, which made 85 investments in just 3 years, mostly in internet companies. When the venture ended, Richard moved to New York as Chief Operating Officer of the online publication Reuters Health News. His main role was to manage the sales force, selling the magazine to relevant companies. But the dot-com bubble burst, the publication collapsed, and he was made redundant.
Back in London, he went back to where he had started, taking a job at Farrers. Richard, with his interest in business and experience at Reuters, as well as with mergers and acquisitions, was hired to head up a team to handle corporate work. He developed a team of 26 people, brought in an impressive number of significant clients, and was eventually made partner.
For 9 years Richard was a member of the Court of Governors of the University. During that time – a period of unprecedented turbulence within higher education – his considerable wisdom and experience greatly contributed to its management and its ability to respond robustly to a constantly changing and challenging environment.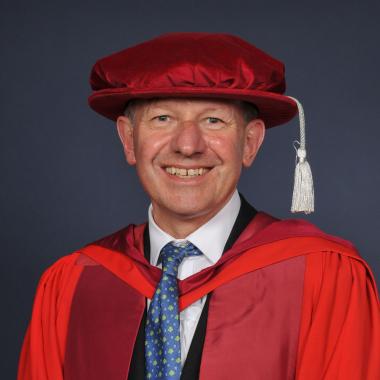 Sir Sherard Cowper-Coles KCMG LVO
Sherard Cowper-Coles has had a distinguished and colourful career as a diplomat and had a succession of high-profile roles, including ambassador to Israel, Saudi Arabia and Afghanistan. He was also appointed a special representative of the UK Foreign Secretary to Afghanistan and Pakistan.
He had been Principal Private Secretary to the UK Foreign Secretary, the late Robin Cook, and was Head of the Foreign Office Hong Kong Department from 1994 up to the handover to China in 1997. He has written two acclaimed memoirs, including the best-selling Cables from Kabul.
Sir Sherard joined HSBC Holdings in October 2013 as Senior Adviser to the Group Chairman and Group Chief Executive. Before that, he was Business Development Director, International, at BAE Systems plc Sherard is also Chairman of the Financial Inclusion Commission; a Board Member of the China Britain Business Council; UK Chairman of the Omani-British Friendship Association (business council); and Chairman of the Saudi-British Society and of Pitzhanger Manor Trust.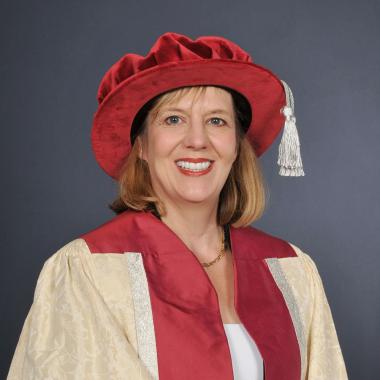 Suzy Walton, BSc, MSc, PhD
An experienced non-executive board director with three Deputy Chairmanships, Suzy Walton has expertise in regulation, science, medicine, strategy and consumer affairs. After working as a broadcaster, journalist and actor, she studied Psychology at the University of Hertfordshire. She began her executive career in Cabinet Office and military intelligence. Her PhD was inspired by her research for the Ministry of Defence in military suicides.
Suzy now has now held over a dozen directorships on boards including that of HEFCE – the Higher Education Funding Council for England. She is also on the State Honours Committee, the board of the Institute of Directors and also the board of Combat Stress as well as acting as Chairman for Combat Stress, of the Medical Services committee. She is also the Deputy Chairman of the Royal Society for the Encouragement of Arts, Manufactures and Commerce – the RSA.
This summer Suzy completed nine years as a member of the Court of Governors for the University of Westminster. In that time she was also Chairman of the HR Committee.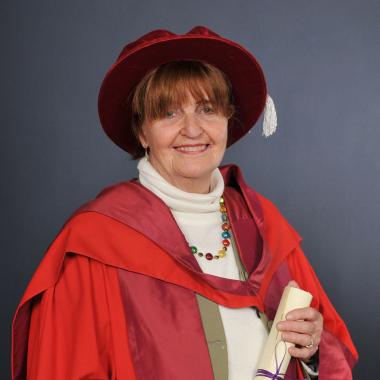 The Baroness Cox of Queensbury
Baroness (Caroline) Cox has devoted her life to humanitarian aid work, which has involved her in many missions to conflict and post-conflict zones. She was created a Life Peer in 1982 and was a deputy speaker of the House of Lords from 1985 to 2005. Lady Cox has received major awards from all over the world, including the Commander Cross of the Order of Merit of the Republic of Poland; the International Mother Teresa Award from the All India Christian Council; and the anniversary medal presented by Lech Walesa, the former President of Poland. She has published a number of books relating to her work, including a diatribe against slavery, and an analysis of the West's relationship with Islam.
She was Founder Chancellor of Bournemouth University, 1991-2001; Founder Chancellor of Liverpool Hope University 2006-2013 and is an Honorary Vice President of the Royal College of Nursing. She is heavily involved with international humanitarian work.
Lacy Cox is Chief Executive of HART (Humanitarian Aid Relief Trust).  She was also a founder Trustee of MERLIN (Medical Emergency Relief International).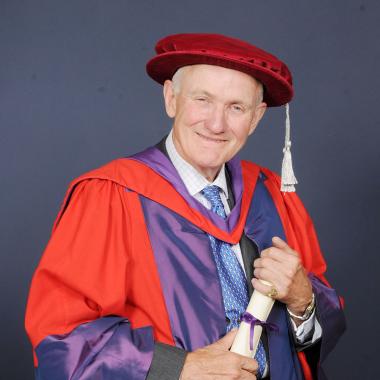 The Rt Hon Douglas Hogg QC
The Right Honourable Viscount Hailsham QC, Douglas Hogg, is the great-grandson of Quintin Hogg, founder of this University.
Douglas decided on a career in politics when reading History at Christchurch College Oxford in the 1960s, where he became President of the Oxford Union. After leaving Oxford in 1968 he initially worked as a barrister, but his passion for politics was undimmed and in 1979 he was elected MP for Grantham, the birthplace of Margaret Thatcher. He remained in parliament until 2010.
In 1982 he was appointed as Parliamentary Private Secretary to the Chief Secretary to the Treasury, Leon Brittan. Following the 1983 election, he was appointed Whip – just for a year, as he didn't especially enjoy the role. He became Parliamentary Under-Secretary at the Home Office, then Minister of State, firstly at the DTI and then the Foreign Office.
Under John Major, Douglas was Minister of State in the Foreign and Commonwealth Office between 1990 and 1995, during which time he was also invested as a Privy Counsellor. He brokered deals in some of the world's most fraught areas: the former Yugoslavia, the dissolving Soviet Union, and the Middle East.
He was Minister for Agriculture, Fisheries and Food between 1995 and 1997. This was a time of some turmoil, due to crises like BSE, but he nevertheless remembers it as a thoroughly rewarding job.
Douglas has also managed a distinguished career in the law as a practising barrister. He was made a Queen's Counsel in 1990, and in 1999 he was elected a Bencher of Lincoln's Inn. Since leaving politics, he has continued to practise as legal assessor to a number of regulatory bodies.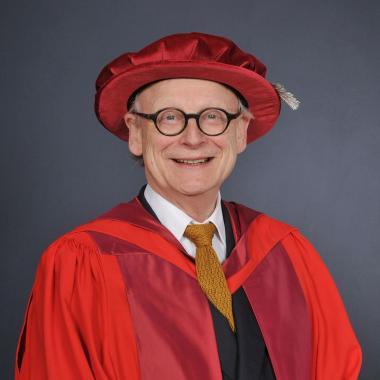 The Rt Hon Lord Deben
The Rt Hon John Gummer, Lord Deben, was the Minister for Agriculture, Fisheries and Food between 1989 and 1993 and was the longest serving Secretary of State for the Environment the UK has ever had. His sixteen years of top-level ministerial experience also include Minister for London, Employment Minister and Paymaster General in HM Treasury.
Committed to championing an identity between environmental concerns and business sense, he set up and now runs Sancroft, a Corporate Responsibility consultancy working with blue-chip companies around the world on environmental, social and ethical issues. Lord Deben is Chairman of the Committee on Climate Change, Valpak Limited, and the Association of Professional Financial Advisors.
Lord Deben is Chairman of the Committee on Climate Change, Valpak Limited, and the Association of Professional Financial Advisors.
The Very Reverend Dr John Hall
Brought up in a religious family in Kent, John Hall was involved in the church from a young age.
Before university, John undertook voluntary service in Nairobi, teaching at a school for orphans and runaways. The experience convinced him of education's ability to transform lives. So after studying theology at Durham University, he postponed his planned ordination and instead became a teacher at a tough comprehensive in Hull.
In 1975 John was ordained and served in 3 parishes in south London. He has been the Diocesan Director of Education for Blackburn, and a governor of 10 schools and 2 universities, as well as serving on 2 local authority education committees and the General Teaching Council For England.
John has written widely and debated publicly on educational matters and was instrumental in the production of the Dearing Report in 2001 and its follow-up. These led to a significant expansion in the number of Church of England secondary schools. As Dean of Westminster, he chairs the governors of Westminster School and Westminster Abbey Choir School. John's most influential educational role was as Chief Education Officer of the Church of England from 1998 until 2006.
Now, as Dean of Westminster, while he oversees a staff of about 300 and a budget of £20 million, he can also fulfil his original calling: conducting services and seeing to the welfare of his diverse congregation.
John was a leading participant in the production in 2004 of the government's non-statutory framework for religious education. The result is a clear, uncompromising commitment to teaching about all faiths and none in our schools.
Last year, Dr Hall hosted the University of Westminster's celebration of its 175th anniversary at Westminster Abbey.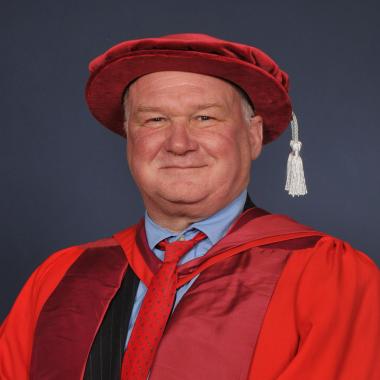 Tim Fenn
With a lifelong commitment to environmentally sustainable building, Tim Fenn has for the past ten years been Managing Director of Green Factory Ltd, which undertakes design, build and master planning projects, as well as development new systems and products. Before that, he worked in a number of innovative companies including P3Eco Ltd, the facilitator behind Bicester Ecotown and Eco2h2build Ltd, a holding company for a group of companies specialising in Eco-house development and manufacture. Tim has also worked as Managing Director of Green Carbon Construction Ltd, which was formed to build new zero carbon homes and supply eco-build products.
During his time as Managing Director of his father's company, Oakwood Builders & Joinery Ltd, Tim developed the Eco-build facet of the company which, using only certified timber created the most energy efficient Victorian house in London as well as the first Super E house in Oxfordshire.
A frequent presenter and lecturer on environmental matters, Tim has been an active member of the advisory board of ProBE, the University's research centre for interdisciplinary and international activity related to the production of the built environment.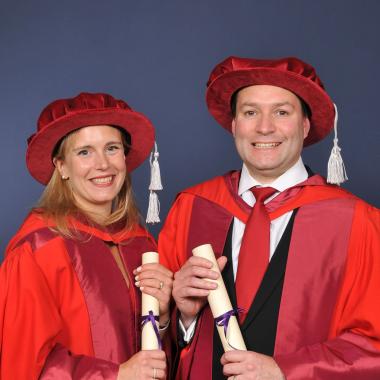 Victoria and Stephen Batten
A Director at BlackRock, Stephen was previously Vice-President at Goldman Sachs. Victoria is in Marketing with Insight Investment Management and was previously with Lehman Brothers.
Stephen and Victoria met at the University of Westminster when Victoria was an undergraduate in Business Marketing and Stephen was President of the Students' Union.
Victoria has a strong belief that large organisations should use their resources as a force for good and help those in need. She chaired the Philanthropy Committee at Lehman Brothers and founded the Charity Committee at Insight Investment. Projects have included helping school children with their reading, a fundraising campaign for a children's hospice, and renovating a school for severely handicapped children in south London.
After school, Stephen joined Operation Raleigh – the voluntary charity now called Raleigh International – working at a leprosy hospital in Guyana. He brought that social conscience with him to Westminster, along with his experience of working for his father's newsagent business. He put this experience to good use as President of the Students' Union, turning a loss-making organisation into one that turned a profit and offered more value to the students.
Stephen and Victoria feel they owe both their success in business and their marriage to the University and have done plenty to pay us back.
They helped to set up the Alumni Association and continue to be strong supporters of that and of the Scholarships Fund. They have both acted as mentors and advisors to students. Stephen has also been Chairman of the independent charity board that oversees the Students' Union and hosted City events for the University.