The alumni team have hosted another successful talk in their 'What It Takes' series titled 'What It Takes to Get In and Get On' about how to get a student or graduate job and succeed from there.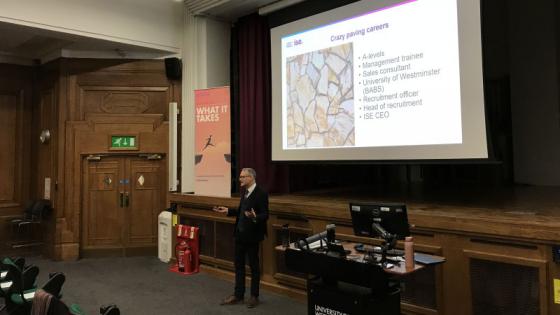 The talk was delivered by Stephen Isherwood, Chief Executive at the Institute of Student Employers and a 1997 graduate of the Business Studies BA Honours course. He was appointed to his role in June 2013 after seven years as Head of Graduate Recruitment UK & Ireland at Ernst & Young, one of the largest recruiters of graduates in the UK. 
During the talk Isherwood discussed where to start when beginning a career journey, what employers are on the lookout for when recruiting and he also gave tips on navigating corporate life. 
Isherwood has extensive experience in the recruitment and development of students. He has worked closely with Higher Education and is focused on the career development and employment of students. He also sits on several steering groups related to Higher Education and has presented to various committees in the Houses Parliament as well as having appeared in national and local media.
The Institute of Student Employers is an independent, not-for-profit organisation dedicated to supporting employers in all aspects of student recruitment and development. It is the UK's leading independent voice for student employers with a vision that the success of every business is maximised by full access to student talent. 
Attendees were given the chance to ask Isherwood questions both during the Q&A and informally after the event with refreshments and networking. 
When talking about what employers look for, Isherwood said: "[The employer] want people that can work with other people. Work is about getting stuff done and actually working with people can sometimes be difficult, it can be challenging. You might have to work with people you don't want to work with, work with people with different agendas. Actually, businesses want people who can work with other people and get stuff done."
He went on to say: "Employers are generally fishing in the graduate population, the student population because they think 'if you're bright enough to go to university, you've kind of got the level of intelligence we're looking for to deal with the kind of work we have to do'. It's a complex world we live in, but it's that practical intelligence piece [employers look for]."  
The What It Takes series will resume in October for 2020-21. 
Learn more about the Institute of Student Employers on their website.
Learn more about our Alumni Services.