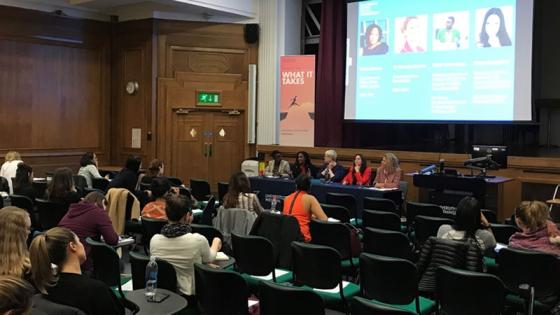 Hosted on Thursday 11 April in the Little Titchfield Street campus, it was an inspiring evening discussing all about female leadership and gender equality in the workplace with a panel of leading Westminster alumnae.
The panel provided advice and personal insight into what it takes to rise to the top of your career as a woman in contemporary society and covered topics around gender equality in the workplace, being strong women and how to become a female leader. It was followed by a Q&A session with refreshments and informal networking.
The speakers included Gillian Bowen, MBA alumna and CEO at City YMCA; Dr Victoria Harmer, MBA alumna and Consultant Nurse in Breast Care at Imperial College Healthcare NHS Trust; Chloé Bourjalliat, MA Translation and Interpreting alumna, Freelance Life Coach and Translator/Interpreter and Founder of the Cool Girls Club; and Ethel Tambudzai, BA Development Studies and International Relations alumna, former Vice President of the University of Westminster Students' Union and Founder and Director of TAMBU GROUP.
Speaking about how gender stereotypes begin in education, one speaker said: "Girls seem to be taught to be pretty and to play safely, and boys seem to be encouraged to climb trees, run and fight. As a parent in the home, you want to encourage your children to be more than they can be, but there are factors outside of that which are beyond their control and will take more than 100 years to resolve. These things go back to a very early age and the question is, how can we impact on that?"
Another speaker said: "Women seem to be stuck in-between two different pressure points of society; one is that women need to be pretty, know how to cook and have kids and the other, with the big feminism wave going on, is that women need to be like men. The best thing that you can do for yourself to become a female leader today is to really find out who you are and what it is that you want, putting aside what anyone else wants and what society wants.
"Being a leader is about embracing what you truly believe in, instead of getting caught up in what everybody else thinks you should believe in. Just do you, whatever that looks like."