From 18-26 January, a group of 15 Westminster students had the incredible opportunity to experience life and enhance their employability in Mumbai as part of the Westminster Working Cultures programme.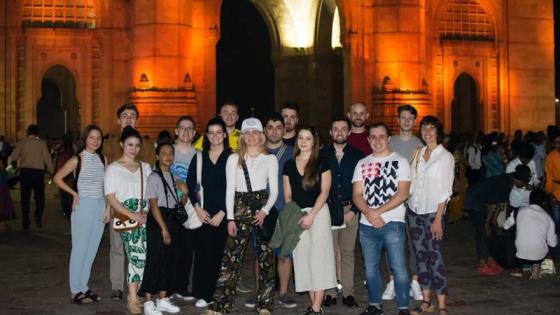 Throughout the week, the second cohort of students to visit India with WWC met with a number of Westminster alumni – many of whom have started their own companies – and heard about a range of professional journeys unique to Mumbai,
They also visited a number of professional environments and explored different sectors such as Bollywood and the film industry, journalism, sustainability, tech and media, as well as attended the first international event of the award-winning 'What it takes' event series.
Students were treated to a private screening of Time Out, the Bollywood film directed by alumnus Rikhil Bahadur who graduated from the Directing: Film and TV MA, now Film, Television and Moving Image MA. The screening was followed by an interactive discussion with Rikhil and a number of others who worked on the film about its themes as well as how it was made and received in India.
Karan Desai, Managing Director of Dhanvarsha Finvest Ltd. and International Business and Management MA alumnus, met with the students and spoke about his professional journey through various roles in the financial sector, breaking out on his own and launching a new brand in the healthcare sector, Exerfit Wellness, for which he is an investor and Director. His talk encouraged the students to develop commercial awareness and market understanding.
The first international 'What it takes' talk the students attended was with Akshay Khullar, who graduated with a PG Diploma in Computer Animation. Akshay spoke about what it takes to network like a professional, make the most of it, have confidence in a room full of strangers and what to include in an elevator pitch. Following this session, students interacted with local graduates at the annual Westminster alumni event in Mumbai, giving the students a chance to expand their professional network and discuss life in the city.
Another highlight of the trip was the opportunity to explore some of the social issues faced by Indians and how they are coming up with enterprising ways to deal with them. The group learned about the Dabbawalas, a lunchbox delivery and return system delivering homemade lunch to people at work, and visited the Dharavi Slums, where they saw a number of small-scale businesses operating.
Jon Woodburn, a History and Politics BA student who took part in the trip, said: "The Mumbai trip provided a platform to develop the graduate attributes already developed in my previous years at Westminster. The University provides excellent opportunities for graduate employability development and the WWC programme puts a global focus on this."
The trip was made possible by the generous funding support from the Quintin Hogg Trust and offered by the University's Alumni team. Students were joined by members of the Careers Employability service, Global recruitment and Admissions team as well as Dr Sumita Ketkar, Senior Lecturer in Leadership and Professional Development at the Westminster Business School.
The next two trips in the Westminster Working Cultures programme will be to Shanghai and Hong Kong in April 2019. With students from 165 countries, staff from across the world and a highly international alumni community, the University of Westminster embraces global engagement in all its forms.
We have a rich mix of international partnerships in over 20 countries worldwide and place particular emphasis on providing international opportunities for our students. Our research addresses global themes and is sustained by international collaborations. We are an international institution, located in the heart of London.
Learn more about Westminster Working Cultures.
Find out more about the trip and read Business Management (Finance) BA Honours student Karolina Lubian's blog post.