Following the successful launch of Westminster Working Cultures (WWC) in 2017, the programme is growing to create opportunities for hundreds of students annually both abroad and in the UK, with a new innovative iteration launching this September.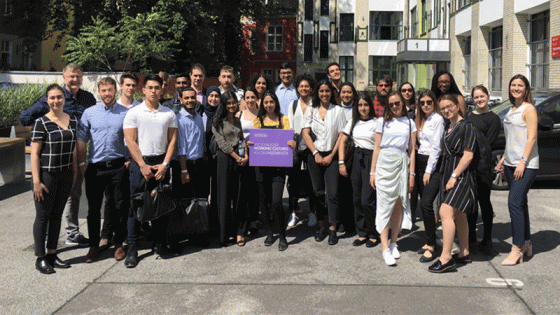 Running from 7-11 September 2020, the first virtual version of WWC UK will feature Director, Producer and Writer Asif Kapadia, Film, Video and Photographic Arts BA Honours graduate, who completed his studies in 1995. Throughout the week, students will have an incredible opportunity to hear from and engage with Westminster graduates working in a range of sectors and organisations to learn about the professional landscape in the UK and how they can navigate their way through the current challenging climate. Applications are open 1-22 July 2020 on Engage.
Undergraduate students and Class of 2020 graduates are all eligible to apply.
The expanded programme will now feature three branches of activity – International, UK and Professional which will support hundreds of students each year through offering an unparalleled global and local employability experience.
WWC is a University-wide initiative designed to enhance the employability of Westminster students, through utilising the support of our global network of alumni and partners. With a particular focus on students from disadvantaged and underprivileged backgrounds, undergraduates from any course across the University have the opportunity to visit a diverse range of organisations, from start-ups to multinational companies. Focussing on skills development, both hard and soft, students not only learn about different sectors but also focus on research, preparation and reflection to make the most of their experience.
WWC International, running since 2017, will continue to provide international mobility opportunities to students, giving them the chance to experience work insights and the employment culture in some of the world's major cities. 
WWC Professional will deliver professional development activity in select markets around the world, in order to strengthen engagement between the University, its alumni, and current and prospective students.
WWC UK will feature a series of week-long employability programmes, skills development workshops and events which students can participate in throughout the year alongside their studies, giving them a chance to experience work insights and employment culture in the UK.
The programme is generously funded by the Quintin Hogg Trust, Santander Universities and private donations to encourage a wide range of participation. As part of the growth, a WWC team is being recruited to support participants to make the most of their experience with the programme.  
Sahib Uddin, Building Surveying BSc Honours graduate and WWC Mumbai participant in December 2017, said: "The WWC experience has helped me prepare for graduate employability because it literally has helped me secure a graduate job with a globally leading real estate firm, one which I have always wanted to work at… During my assessment centre and interview, I must say I felt a great sense of confidence as I was equipped with an experience which helped me standout in front of all the other graduate candidates."
Alyssa Martin, Alumni Networks Manager and Westminster Working Cultures programme manager, said: "In just a few years, Westminster Working Cultures has created incredible opportunities for our students; and through their professional attitude and approach have made the most of their experiences. I'm so pleased to see the programme growing and look forward to offering even more students the opportunity to connect with Westminster alumni and our partner contacts, supporting them to realise their professional ambitions."
Read more about Westminster Working Cultures or contact [email protected].