Research conducted by BSc Biomedical Sciences students and supported by PhD students was presented at the eighth Congress of the International BioIron Society in Heidelberg, Germany.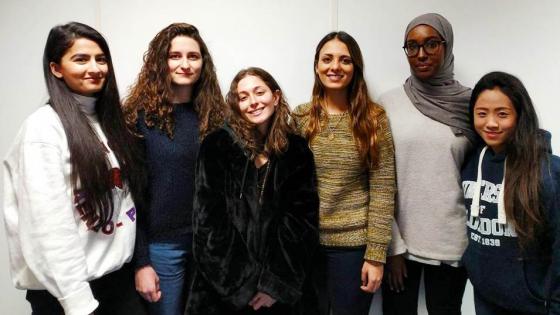 Led by Dr Mohammed Gulrez Zariwala and co-supervised by Leah Mursaleen, the research project aimed to use a nanotechnology-based strategy to develop natural antioxidants for skin therapeutics. It was part of the Undergraduate Research Project module led by Dr Rumy Begum.
The novel results demonstrated that such nanocarrier systems can potentially protect the skin from oxidative stress, a contributory factor in many skin diseases, and may therefore have cosmetic as well as pharmaceutical applications. 
The students, who presented their project amongst world-leading iron researchers, were Layal Aytah, Lina Temouri, Hafsa Malim and Leah Mursaleen. Their high-quality work was well received and generated considerable interest at the conference. 
Talking about this achievement, Dr Zariwala said: "This was a challenging project involving complex techniques and achieving a publication in a short period of time required exceptional commitment from everyone involved. 
"This is the third successive year undergraduate students from my lab have presented their research project module results at a major international scientific conference, and high impact outputs such as this emphasise the importance of teaching informed by research."
Hosted at the European Molecular Laboratory, the Congress took place from 5-10 May. The biennial meeting of the International BioIron Society is a dynamic forum for discussing progress and future in iron biology and brought together scientists and clinicians interested in this as well as diseases related to iron overload and deficiency. 
Find out more about the BSc Biomedical Sciences course offered at the University of Westminster.