Students from the International Business and Management MA/MSc course are working with Alara Wholefoods to investigate new export opportunities for one of the 'world's most sustainable companies'.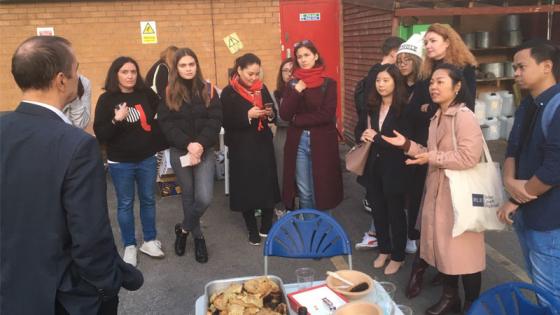 They are working with the Kings Cross based enterprise, who supply a range of breakfast cereals, where they have spent over 30 years working out and implementing how to create a sustainable food production system.
As part of their marketing assessment, the students are working with Alara in a 'live' case study to investigate the best export opportunity in one of three countries: France, India and Uzbekistan, where the company currently has no market presence. 
Students were invited to Alara's headquarters for a barbeque on Wednesday 16 October where they met the founder and owner, Alex Smith, as well as employees to talk about the company and gain insights for their assignment. 
Smith said that he started the business with 'two pounds that I found in the street' in 1975. Since then, Alara has achieved many firsts in the industry, including being the first cereal company to be certified organic and the first to be licensed by Coeliac UK.
Richard West, Senior Lecturer on the International Business and Management MA/MSc course, said: "Gaining real life experience of actual business problems is a key part of the course. In the past, students have created and marketed their own confectionary products, worked with companies in the redesign and repositioning of products such as organic fruit juices and protein supplements, and worked with companies on specific marketing and branding problems. 
"However, Alara Wholefoods is an excellent company to be involved with, because of the way they challenge conventional business thinking. I'm sure the students will learn a lot about sustainability and the challenges of 'green' marketing from the experience."
Learn more about the International Business and Management MA/MSc course.