From 5-7 February, Westminster students attended the second Peace Summit for Emerging Leaders at the United Nations Conference Centre in Bangkok.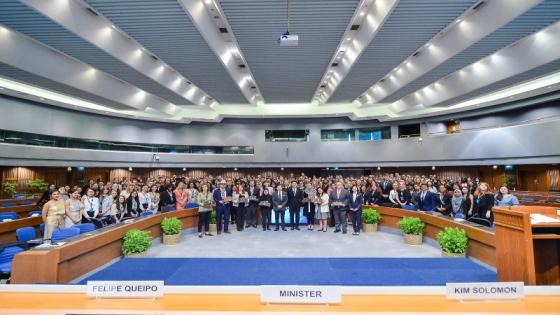 The summit, organised by Humanitarian Affairs Asia, gathered young leaders from across the globe to give them a fresh perspective and a wider understanding on peace building. Representing the University, Westminster students attended the conference alongside 347 other delegates from 55 countries. 
The summit involved a range of keynote speeches, networking events and interactive workshops to improve young leaders' confidence and to further encourage them to become champions of peace. As a result of attending the summit, the students have also been awarded the title of Humanitarian Affairs Peace Ambassadors for up to one year.
Reflecting on her time at the summit, student representative for Westminster Keisha Kossuoh said: "It was an honour to represent the University of Westminster at the second Peace Summit of Emerging Leaders. I was able to listen to brave keynote speakers like Rahila Haidary and Derek Schwartz share their heartfelt and impacting stories as they emphasised how vulnerability and hardship can transform to forgiveness and resilience.
"Through the dialogues and networking sessions, I was able to discover how other people define peace. Listening to individuals from across the globe share their unimaginable atrocities was incredibly impactful and brings light to the fact that peace is not simply the absence of war, but also a world where we can recognise our differences, be able to manage conflict constructively and where everyone has a right to education. This has better shaped my idea of what peace means and how to implement it.
"Ultimately, the three days I spent at the peace summit empowered me to understand my inner thoughts and embrace compassion, empathy and kindness. I am proud to call myself a Humanitarian Affairs Peace Ambassador."