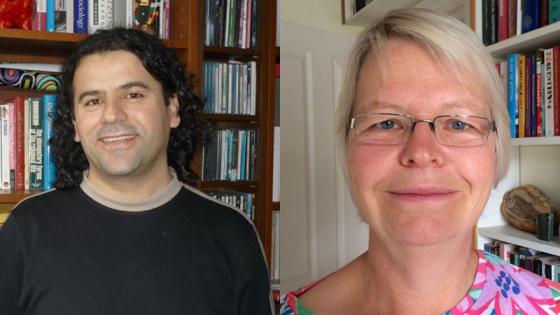 Together with Professor Suavi Aydin from Hacettepe University, Dr Cetin and Dr Jenkins have just edited the first special issue on Alevi-Kurds for the specialist Kurdish Studies journal. Kurdish Studies has become a recognised field of Middle Eastern Studies in the last ten years and Alevi Studies has emerged more recently but there is a gap in research on Alevi-Kurds, especially in English.
There are an estimated fifteen to twenty million Alevis living in Turkey, constituting twenty percent of Turkey's population. While the majority of Alevis are ethnically Turkish, twenty per cent, which is about five million, of them are ethnically Kurdish, and this makes them a 'twice minority'. Kurdish Alevis live in several eastern and central provinces of Turkey with diverse religious rituals, customs and practices and speak Kirmanci and Zaza languages.
What is distinctive about them in Turkey is that they were subjected to double discrimination, systematic assimilation and sometimes persecution, for not only being Alevis but also Kurds. However, in the UK, the majority of Alevis identify as Kurdish Alevis and so they constitute a majority, but they too have been marginalised because it is assumed that they are Turkish or Kurdish and Sunni Muslim because they came from Turkey.
This special issue brings together interdisciplinary scholarship on Alevi-Kurds by focusing on their ethnic, linguistic, religious, political, cultural and social specificity. The first part focuses on Turkey, exploring the roots of Kurdish Alevism and how Alevi religious identities intersect with ethnic and national identity and political representations. The second part focuses on Alevi-Kurds and their construction of a transnational ethno-religious identity in the UK population.  
Dr Cetin and Dr Jenkins have been working with the London/UK Alevi community for the past 10 years to explore various aspects of Alevi-Kurd identity and community through analysis of anomic features of youth identity such as underachievement, gangs and suicide. Also, through anti-discriminatory action research, they have helped to promote the visibility of Alevis through introducing Alevism lessons in school Religious Education classes, conducting a survey of Alevis to support their case for recognition by the Charity commission and inclusion in the 2021 census as a distinct religious group. 
This special issue on Alevi-Kurds extends the academic recognition of Alevism Studies in the UK, expanding the field to include Alevi-Kurds. In this spirit, Dr Cetin and Dr Jenkins are organising a biennial conference on Alevi Studies at the University of Westminster in July 2021 to bring together scholars and encourage further research and debates about the different aspects of the ethno-religious and socio-political identity of Kurdish Alevis.
Dr Welat Zeydanlıoğlu, Managing Editor of the Kurdish Studies, said: "It's been a privilege to invite guest editors Umit, Celia and Suavi to produce this special issue of Kurdish Studies on Kurdish Alevis. This adds a new dimension to the journal as the first in its history to tackle a relatively unknown aspect of Kurdish identity. They have selected a range of articles showing a breadth of scholarship across different disciplines and addressed ethnicity, religion and identity in Turkey and the UK with enthusiasm and passion. This is a turning point for the journal in identifying a new dimension for continued exploration in the future."