On Wednesday 22 May, the Westminster School of Media and Communication delivered a workshop on the EPQ for the Hertfordshire branch of the School Library Association (SLA).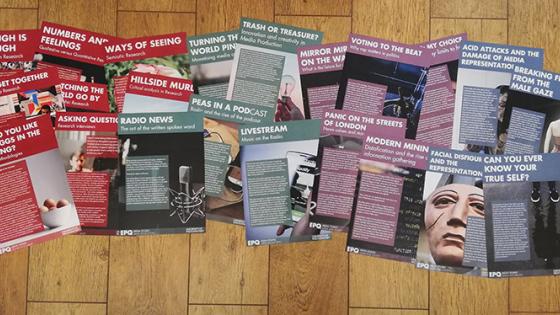 The workshop aimed to show how scholars from across the School and from the Communication and Media Research Institute (CAMRI), could support and inspire students and staff across the region working towards an EPQ with a media and society focus.
The EPQ is a stand-alone qualification equivalent to half of an A-level and encourages students to undertake a research project on a topic of their choice. The final submission can take the form of either a dissertation, the creation of an 'artefact' such as a musical or dramatic composition, or a piece of artwork supported by paperwork. This offers students the freedom to choose their own work with the opportunity to learn away from the rigid curriculum of A-Level syllabi.
The workshop provided several methods of support, including a series of free downloadable cards aimed at helping students develop thoughts and ideas to inspire a research topic and methodology. The cards were created by senior academic staff from CAMRI and across the School, each drawn from their own individual research expertise. A specialist EPQ team, consisting of Senior Lecturers Ellen Roseblade and Doug Specht, along with two Academic Liaison Librarians, Eleri Kyffin and Sara Hafeez, helped further to ensure suitability of these resources for post-16 education, including open access resources and interactive classroom activities.
So far, 24 topic and activity cards have been produced, which will soon be available to download for free by every school, teacher and student in the country. These resources will also be supported by the provision of CPD events for teachers, as well as school visits to the University of Westminster Harrow Campus for tours and workshops.
Speaking about the success of this workshop, Senior Lecturer Doug Specht said: "The event was a great opportunity to work with colleagues from schools within the area to share good practice and demonstrate the way in which our work and research can support the EPQ and inspire pupils who may be considering going to university.
"The event was very well received by the School Library Association, and it was an excellent chance to share ideas about how Westminster can work more closely with schools, both in the local area and country-wide."