Mahmoud Aldraimli, a PhD researcher from the School of Computer Science and Engineering, successfully led a group of experts to build machine learning models to assist in the prediction of toxicities in breast cancer data.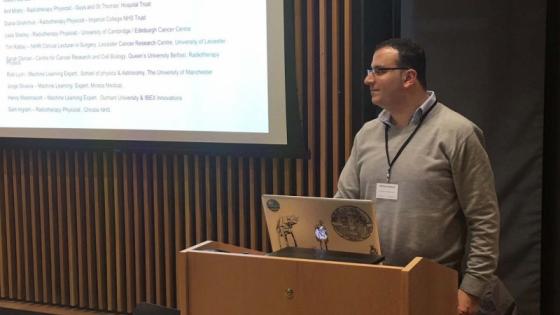 Hosted by the University of Manchester, the Radiotherapy Machine Learning network event was the first of its kind, a joint initiative with the NCRI Clinical and Translational Radiotherapy (CTRad) group. It brought together cancer clinicians and experts from the Machine Learning community to address challenges in cancer radiotherapy to build high-quality outputs.
Mahmoud succeeded in the competitive selection process and secured a place in the event as a Machine Learning Expert. He started his PhD studies on "Building Machine Learning Models for Breast Cancer Risk Prediction" in October 2017 and is supervised by Dr Daniel Soria and Professor Thierry Chaussalet from the School of Computer Science and Engineering, and Dr Miriam Dwek from the School of Life Sciences. He is a member of the Health and Social Care Modelling Group, of the Cancer Research Group and works actively within the newly formed Health Innovation Ecosystem at the University of Westminster.
Talking about the event, Mahmoud said: "By collaborating with experts in the Radiotherapy Machine Learning Network, we have been able to explore medical datasets together. There is a positive outlook for the work ahead and it has been a great event - first of its kind, so we are very thankful to the organisers for making this happen."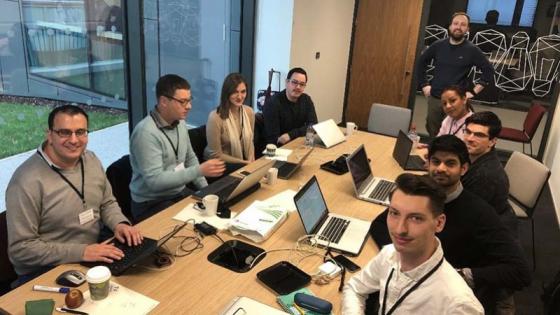 Dr Daniel Soria, Senior Lecturer in Computer Science and Engineering and Director of Studies for Mahmoud's PhD, commented: "Despite his non-clinical background, Mahmoud not only secured a place for this event, but also successfully led a group of clinical and AI experts during both days at Manchester. He showed leadership and independence that allowed him to establish new collaborations which will hopefully be extremely beneficial for the remainder of his studies and his future career."
Professor Thierry Chaussalet, who is leading the Health Innovation Ecosystem at the University, added: "This is even more impressive when you think that Mahmoud had no clinical knowledge and only little experience in machine learning 18 months ago and is now leading clinical and AI experts."
The event was funded as part of the Science and Technology Council (STFC) Global Challenge Network+. It gathered scientists in Radiotherapy and AI from 27 academic institutions and medical organisations nationwide to unleash potential discoveries in medical datasets to improve the health and wellbeing of breast cancer patients.
Find out more about the Research Degrees offered at the University of Westminster.