Rebeca Barcenilla Garcia, a student working on her PhD in Astrobiology, has been asked to run activities at the Natural History Museum's Lates sessions with her outreach project AromAtom.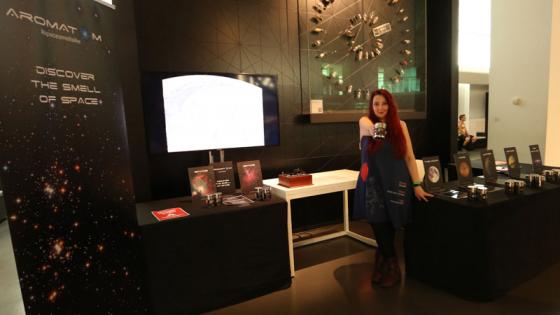 The project uses the olfactory sense as a tool to engage the imagination. Participants are taken on a space journey during which they discover the universe by smelling a number of odours related to the composition of the planets and moons of the Solar System, according to the Apollo and ISS astronauts. 
During activities, Rebeca spends a considerable amount of time answering questions about Mars and the various missions informing her research. The focus of her PhD work is the search for biosignatures on Mars with the ExoMars (European Space Agency) and Mars 2020 (NASA) rovers that are being sent there next year. Rebeca also discusses the new rovers being built, and the search for life and habitability in the Solar System. 
The project is her way of bringing Space Science and Astrobiology to the public. Rebeca said: "I love science communication and it is something that I would like to keep doing alongside my PhD. I really enjoy delivering formal talks and presentations, but I also enjoy doing it in a creative, fun and engaging way, which is what AromAtom is about."
The project has allowed Rebeca to get involved in other science-related activities across the country. She was asked to take part in the Science Museum's Summer of Space Family Festival from 30 May to 2 June , as well as in many of their Astronights sleepovers organised for children with special needs. 
She has attended the Bluedot Festival at Jodrell Bank Observatory at the request of science and technology magazine New Scientist to showcase her project on their stand. Her work has also been featured in the official magazine of the Royal Astronomical Society and the Biochemical Society's Biochemist Magazine. 
Speaking about how she hopes the project will inspire more interest in science, Rebeca said: "Whilst much of the science outreach work that we do targets audiences already interested in STEM subjects, my aim with this project is to reach people who don't usually engage with the scientific community; especially people from creative and artistic backgrounds who often think of science as clinical and boring. As a creative who was terrified of science for most of her life, but who eventually overcame this fear and became a Space Scientist in her mid-forties, I love making science fun and accessible to reach children and adults who, like me, just need some encouragement and an engaging way to be introduced to STEM. All it takes is a spark."
Find out more about research degrees at the University of Westminster.