The University of Westminster Careers and Employability Service partnered with four forward-thinking and like-minded London universities to host a two-day Inclusive Futures virtual careers fair on 8 and 9 October 2019.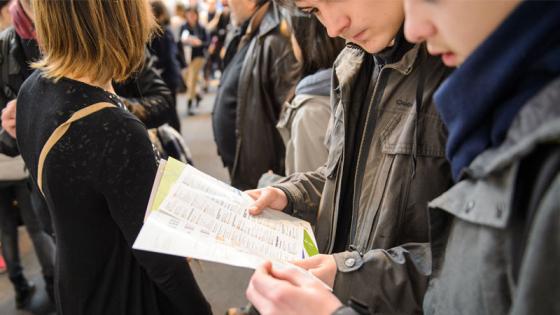 The universities involved were Kingston University, London Metropolitan University, University of East London and the University of West London.
This was a new initiative, funded by the Quintin Hogg Trust, and it provided 30 employers, and over 400 students and recent graduates from partnering universities with an opportunity to interact with each other without the restrictions of time, budget and location.
The focus of the fair was on embracing diversity and promoting the inclusive recruitment and development practices of the future, whilst showcasing a diverse student community to employers across sectors.
Exhibitors and students were encouraged to take advantage of the digital tools available, such as online booths and webinar facilities, giving students greater insight into their opportunities. Participants could also answer questions and communicate one-to-one with students through a live Q&A or chat tool. 
There were over 30 national and international employers participating an online fair, including Accenture, Airbus China, Atkins, Bloomberg, GlaxoSmithKline (GSK), Civil Service Fast Stream, Home Office, PwC, Nike, Leonard Cheshire: Change 100 and Virgin Media.
Students and recent graduates had the opportunity to engage with employers and hear from industry experts across a variety of live streamed events. These topics included 'Gender Diversity' and why it still matters to employers, a session which was delivered by Inclusive Employers; what international students should know about 'Working in the UK', delivered by Student Circus; 'LGBTQ+ Workplace Inclusivity' delivered by LGBTQ+ organisation Stonewall, and 'How to Break into the Elite' delivered by Sanctuary Graduates.
The fair also included a live streamed panel discussion featuring recent graduates from partner universities and was hosted by Inclusive Employers, discussing student and graduate perceptions of graduate recruitment and their first graduate roles.
A series of webinars were also available from careers advisers, who were on-hand to provide support and advice through live chats.
The students, presenters, partners and employers all agreed there was real momentum for change across society, and a hunger among diverse students to work for firms that are socially responsible and embrace difference.
The employers were impressed to see the passion and motivation of Westminster students. Connie Chammings from Civil Service Fast Stream shared that excitement. She said: "The Inclusive Careers Fair was a very well organised event and we were really impressed by the levels of engagement and professionalism from the students."
Learn more about the Careers and Employability Service at the University.