The University of Westminster's Development Policy Research Network welcomed speakers from across the globe to the annual Westminster Development Studies Symposium taking place on Friday 17 May.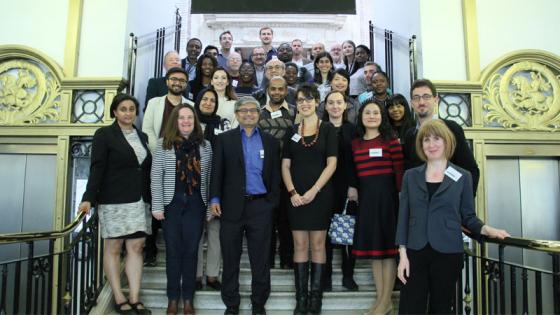 The event was organised by the Westminster's Development Policy Research Network and took place at the University's Regent Street Campus. 
The workshop provided a forum to explore the issues, challenges and responses to conflicting trends of greater interconnection and isolation, which are shaping the world economy. The aim of the event was to bring together scholars from all fields related to development studies focusing on drivers and consequences of globalisation or isolation. 
The Symposium offered attendees a keynote speech from Professor Kunal Sen, Director of the United Nations University World Institute for Development Economics Research and Professor of Development Economics at the Global Development Institute, University of Manchester. Professor Sen is a leading international expert on the political economy of growth and development. His lecture discussed the following topic 'Has Globalisation caused Premature Deindustrialisation?'
The Development Policy Research Network also welcomed an excellent array of renowned speakers from the University of Manchester, Trent University (Canada), School of Oriental and African Studies, Nottingham Trent University, University of Bradford, University of Glasgow, and with the furthest afield coming from the University of Electronic Science and Technology of China. 
Speaking about the event, Dr Karen Jackson, who co-organised the Symposium alongside Dr Serena Masino, said: "We are very grateful to all the delegates, some who travelled significant distances to join us for this annual event. Furthermore, the support provided by Westminster Business School was essential to the success of the event, with special thanks for the event support provided by Daniel Scroggins."
The event forms part of a range of activities organised by The Westminster's Development Policy Research Network throughout the academic year. It is the second Development Studies Symposium taking place at the University of Westminster.
The Westminster Development Policy Network brings together researchers active in the field of development policy and development studies at the University of Westminster. The network combines various areas of expertise in economics, sociology, media, geography and urban studies, and organises the annual Development Studies Symposium, during which University and external staff have an opportunity to network and present their latest research.
The Westminster Development Policy Research Network is open to new members. For more information, please contact Dr Serena Masino or Dr Karen Jackson.