The University of Westminster Careers and Employability Service hosted an all-online Graduate Careers Fair 2020 on 23 April 2020 with the participation of 14 national and international employers across several business sectors.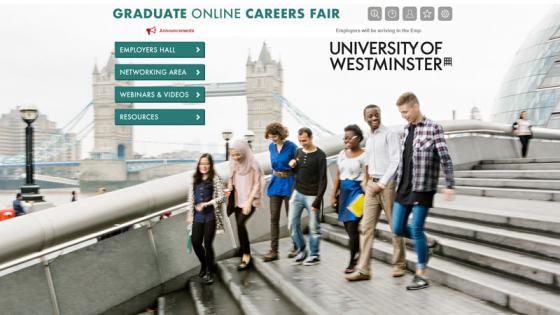 The Fair provided over 400 students and recent graduates with an opportunity to interact with potential employers from the comfort of their homes. 
This was the second event organised under the virtual events initiative, funded by the Quintin Hogg Trust. The Graduate Online Careers Fair gave students and graduates an opportunity to engage directly with recruitment coordinators and hiring managers, get advice about successful applications and network. As a result of the Fair they will be better placed to make informed applications for current and future opportunities.
Students and recent graduates had the opportunity to engage with employers including GlaxoSmithKline (GSK), Framestore (Bafta and Oscar winning creative studio), Investment 20/20, ITV, ONCALL Interpreters & Translators, Sky, and Women in Localization.
A series of webinars with live Q&A were also broadcast on the day of the fair. The topics included insights into the media such as 'An Introduction to Framestore' and 'ITV Entertainment & Possessed Talent Team: TV Tips' delivered by ITV; what international students should know about the 'Chinese Job Market' delivered by Lockin U, as well as a session on 'Erasmus+ Recent Graduate Traineeships - Funding Opportunity' delivered by Maria Mylona from the Student Mobility Team at the University of Westminster.
The Careers and Employability Service's team members were on-hand to provide support and advice through live chats. Students also had the opportunity to access a series of digital resources providing various types of support to students and recent graduates in developing their employability skills.
Hannah Wilson, final year Journalism BA Honours student, said: "The graduate careers fair was very useful, especially during this time of uncertainty. The fact that the University is helping through these online careers fairs is very comforting. Even though it may be difficult to find a job at the moment, the webinars, especially the ITV one, gave me a lot to think about." 
The Careers and Employability Service said: "The Graduate Online Careers Fair had participants from across the globe from Japan to USA, and the Careers and Employability service is proud of the diverse community reflected in our staff, students and the employers we partner with."
Learn more about the Careers and Employability Service at the University.