Entrepreneur Jen Scott visited Westminster Business School on 28 October, to share her pearls of wisdom on how to 'turn your part time hustle in to your main income'.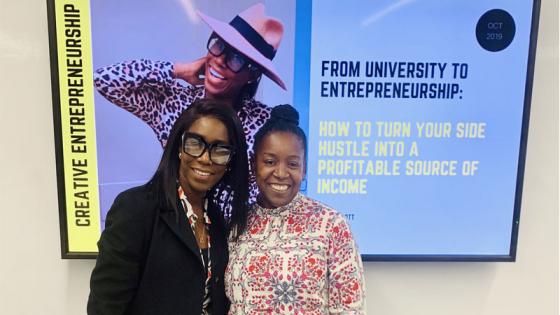 Scott, the co-founder of award winning networking company Hustle and Heels and wig maker HairID, addressed a mixed student group of undergraduate students studying on the Business Economics BSc Honours, Business Management (Entrepreneurship) BA Honours and International Business BA Honours courses. 
The event was organised by Karen Kufuor, Course Leader of Business Economics BSc Honours, as part of a week of activities focusing on employability.
Scott shared her personal journey consisting of multiple business attempts starting at age seven when she designed her own clothes. By 16, she launched a fashion label, at 20 a cupcake business, a modeling agency a year later before finally setting up HairID with her Co-Founder Jamie Tavares when they were both just 23 years old. 
Setting up Hustle and Heels five years later was largely incidental. It was initially an attempt to sell wigs over a lunch time networking event. It gained great support as an event but led to zero product sales, which inadvertently uncovered the business idea behind Hustle and Heels. The company organises a variety of events and services to support individuals at different stages of their entrepreneurial journey. 
Scott's visit was very timely as the University celebrated Black History Month, as Hustle and Heels' business model has shifted its focus to empowering and supporting underrepresented groups to start and grow their businesses. Scott and Tavares's efforts were recently recognised at the highest level of government as the co-founders were invited to Number 10 to celebrate the company's success.  
Scott's advice to students was simple: know your why and adopt a practical approach, which involves setting yearly goals that are reviewed quarterly with actions taken daily to achieve them. 
Kufuor said about the visit: "Jen Scott epitomised the principle of try, try and try again, perfectly highlighting the importance of resilience and self-belief on the entrepreneurial journey. "
Learn more about the University's Accounting, Finance and Economics courses.