Over 100 foundation business students from Kaplan International College London visited Westminster Business School on 29 October.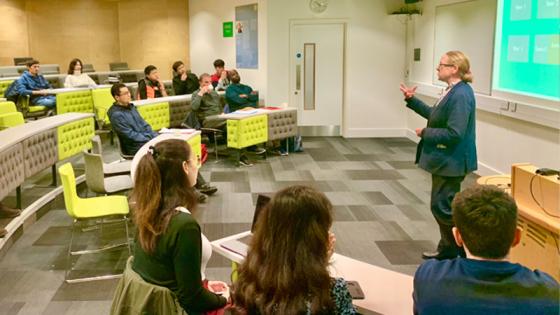 Kaplan International College London provides a wide range of routes into university and Kaplan students typically join the first or second year of the Business Management BA Honours course at the University of Westminster. The Business School also welcomed about 30 pre-masters Kaplan students. 
The visit was organised by Karen Kufuor, Undergraduate External Relations Coordinator and Course Leader of the Business Economics BSc Honours course, and Richard Bolsher, International Recruitment Officer. The day began with a welcome and overview of undergraduate programmes at Westminster Business School (WBS) given by Karen Kufuor and an introduction to the Business Management BA Honours course by Rachel Lander, Senior Lecturer and the Course Leader, and Kamala Balu, Senior Lecturer on the course. 
The student experience was explored by a wealth of presentations given by WBS student ambassadors. Final year Business Management BA Honours student Arshdeep Kaur opened the students' views session, sharing her experience on her course and giving tips on how to get the most from university life.
Frederick Phillips, a student on the Business Management (Economics) BA Honours course, explained the flexibility that attracted him to his course, he also reflected on the value of working on real-world consultancy projects with the student consultancy Westminster Business Consultants and the benefits he gained from a ten-week internship at Global Transaction Banking within Lloyds Banking Group. 
Final year Business Management (Marketing) BA Honours students Marina Bianca Baciu and Mariia Kogan discussed their fantastic experiences gained from respectively a semester abroad in Valencia and a work placement as a Marketing Executive with ICG Medical.
Dr Vincent Rich, Head of School of Organisation, Economy and Society, gave an overview of postgraduate opportunities to Kaplan's pre-master's students. His session was supported by Elmira Preni, an alumna of the International Business BA Honours course, who shared the benefits of getting involved in the variety of opportunities the University provides, and Harsh Aggarwal, who shared his journey as a current master's student on the Accounting and Finance MSc course within the Business School.
Karen Kufuor followed up the Kaplan visit by visiting Kaplan International College's London Bridge campus. Kufuor delivered a topical lecture to foundation and year one international students, entitled 'You are what you eat'. The lecture explored the reasons why governments intervene in markets and analysed the challenges governments' face intervening in the food industry, and she evaluated recent public policy in Mexico and the UK.
Kufuor said about the visit: "Our partnership with Kaplan has provided an opportunity for knowledge exchange between Westminster Business School students and Kaplan students. It was inspiring to see our students speak so passionately and eloquently about their own wider university experience and when I visited Kaplan I found their students inquisitive and enthusiastic learners."